Spreading HIV & AIDS Awareness in Sindh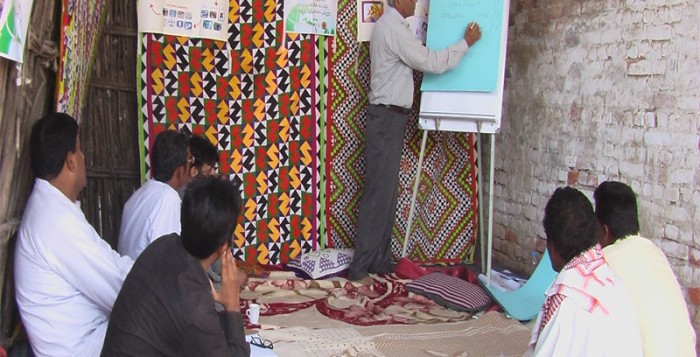 With the continued objective of making discussions on HIV & AIDS more acceptable in both Pakistan and Afghanistan, CWS-P/A's initiatives range from raising awareness to providing communities with access to systems for necessary treatment and testing. Depending on identified needs and interest at the local level, CWS-P/A explores opportunities for sharing knowledge and building capacity with respect to HIV & AIDS. Most recently, CWS-P/A identified an opportunity with staff at the community health center in Badin, Sindh. Six health staff members participated in CWS-P/A's orientation session that addressed basic information on HIV & AIDS, sexual health, rights, stigma, myths, and discrimination. The training also equipped participants with knowledge and confidence to further share information with community members.
The responsiveness of the participants indicates a strong likelihood that communities benefiting from the health center will also benefit from education on HIV & AIDS. Describing his experience, Zahid Meerani, a participant, expressed that the training benefited him by increasing his knowledge and removing misconceptions he had about HIV & AIDS while building his skills to train community members. Zahid and the other participants shared their plans to conduct twenty awareness sessions at the community health center. In addition to providing the orientation to Zahid and the others, CWS-P/A provided resources to the participants, which comprised of publications related to HIV & AIDS.
In countries such as Pakistan and Afghanistan, where health statuses are poor, raising awareness is an essential step in improving overall health. CWS-P/A continues to experience firsthand how effective increasing awareness can be and has been particularly successful in improving women's and children's health. The organization believes that its efforts for improving knowledge of HIV & AIDS has the potential to help health staff and community members make life-saving choices.