South Asian Youth unites to promote regional solidarity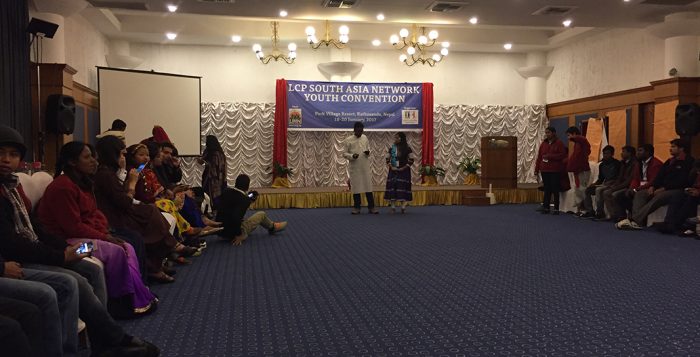 A regional Youth Convention was held in Kathmandu, Nepal in mid-January this year as part of a Collective Youth Programme undertaken by the Local Capacities for Peace (LCP) Network. Community World Service Asia, being a member of the LCP network also participated in this convention, the objective of which was to develop solidarity and peace among the youth of South Asia.
Fifty-four youth members from five countries, representing nine organizations, participated at the event. Each member represented their unique culture and offered a brilliant learning opportunity to each other to get. The 54 youth delegates from Nepal, Bangladesh, India, Pakistan and Afghanistan exchanged a rich knowledge and developed a thorough insight on the realities, issues, challenges and common spaces available for each other in varied contexts in each member country.
The convention helped in developing a strong bond among the youth of South Asian countries through sharing experiences and understanding common grounds. The event also helped in celebrating the cultural diversity of South Asia through its youth. It also provided an opportunity for youth members to discuss common challenges and to work together towards addressing them.  An Action Plan was developed to advocate on the identified issues faced nationally and regionally. All the groups in the convention finalized a draft of Youth Declaration featuring key points to be implemented by the youth participants on a regional and national level. The key points of the declaration are?
We will be celebrate South Asian Youth day
We will raise the number of volunteers who are capable of resolving the problems and can contribute towards peace building
We will conduct inter-cultural exchange programs to integrate "oneness"
We will use social media (i.e. Facebook, Twitter) and encourage the interested volunteers to take up informative short films to enhance knowledge and communicate the issues of South Asia Countries.
We will take up social activities and advocate for a good cause and join hands to contribute peace in the South Asian countries
We will convey solidarity
We will have exposure visits to share oneness for maintaining peace and unity
We will be helping the volunteers in skill development
We will conduct campaigns on educating people about their rights.
We will formulate policy for boosting economy, livelihood and good environment in South Asia
We will encourage all dynamic youth groups of South Asia to collaborate closely to carry out programs aimed at youth empowerment
We will establish peace education centers in the respective regions.