Skills Training Improves Lives for Afghan Refugees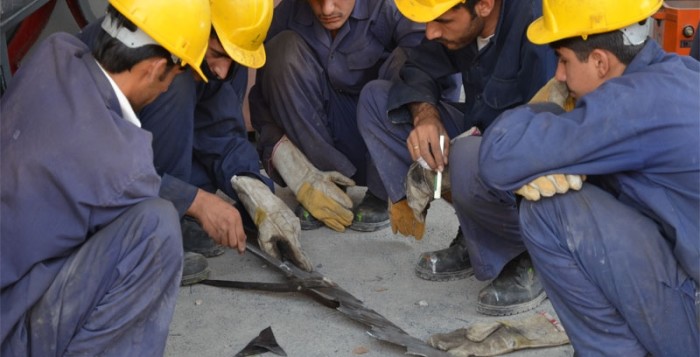 One of the most challenging struggles that people face when they move into another country, whether by choice or circumstance, is the ability to provide an income for their families. You may think that their previous livelihoods are transferable, but more often than not, this is simply not the case. A farmer will have no land, a merchant will have no stock and formal training may be rejected. For many Afghan refugees living in Pakistan, life is difficult, particularly for those who have limited access to income earning opportunities.
One of the ongoing projects of CWS-P/A is the Construction Trade Training Program (CTTP). This project is taking place in Mansehra District, Khyber Pakhtunkhwa Province and involves equipping participants with a practical skill set to take into the workforce. Although there are a few participants from the host community, the majority of the participants are Afghan refugees, currently comprising of both male and female. Normally, there are five trades being taught to men at the CWS-P/A Mansehra training center: carpentry, welding, electrical works, plumbing, and masonry. The latter two have been temporarily suspended to avoid over saturation in the market, while two additional trainings for Afghan refugee women have been added: tailoring/stitching and embroidery. While the men train at the Mansehra facility, the women train either in or near the refugee camps.
There are approximately 15 participants in each class, with each having its own professional instructor. The current group training at the Mansehra facility has already passed the Trade Test Board Peshawar technical exam for their respective fields with 100% pass rate.
The travel costs for participants who must travel daily to the Mansehra facility are covered and also a mid-day complimentary meal is provided. The training program consists of 33% theory training inside classrooms, 66% practical training in the training yards, and 1% confidence building (methods on how to gain employment and highlight their new skill sets to potential employers/customers). Graduates of the construction trades training and the skill development training receive tool kits related to their fields, which enhances their employability and capacity to become entrepreneurs. CWS-P/A works with graduates to help them find employment after graduation. This is accomplished by Mansehra staff members who have built up a network of employers in the region and continually search for new possibilities. With these skills, the graduates also have a greater capacity to work for the development of Afghanistan when they return, as some graduates are already doing.
The products that are being produced by the welding and woodworking classes are exceptional and demonstrate the standards that the training emphasizes; allowing for these skills to be used to generate an income. Some of the tailoring and embroidery pieces are on display at the Mansehra facility, which are also of excellent quality.