Situation Update: Surviving in Sindh, Barely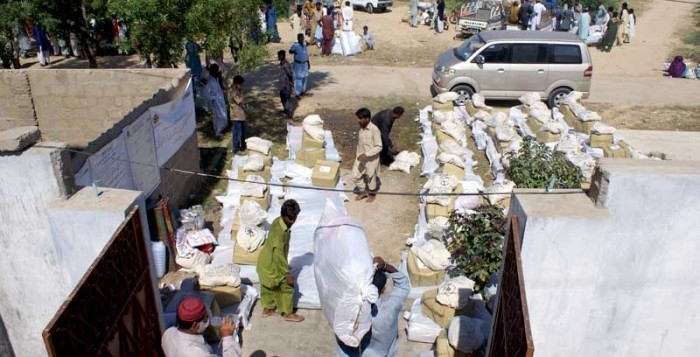 As best they can, with limited resources, humanitarian agencies continue to provide relief items to families throughout Sindh. Unfortunately, millions of people remain at high risk of food insecurity, disease, and vulnerabilities from a lack of adequate shelter. Over the past week, additional funds were committed toward the response including USD 17.6 million from the United Nations' Central Emergency Response Fund. Unfortunately, the slow response prevents the humanitarian community from meeting immediate needs and continues to add misery for the millions direly requiring relief now.
Background:
Following last year's floods, the Supreme Court formed a commission to investigate the allegations that influential persons had illegally made breaches in embankments of barrages and canals. In early June, the commission submitted a report that the Irrigation Departments of Sindh and Balochistan must not allow the illegal structures on government lands, which were destroyed last year, to be rebuilt. In the ongoing case, it is currently being reviewed that if the recommendations made in June had been followed by the federal and provincial authorities, less damages would have occurred due to extraordinary rains in August and September. On Monday, October 10, 2011, the Advocate General Sindh defended the Irrigation Department Sindh saying that the Left Bank Outfall Drain was only designed for 4,000 cusecs while this year 18,000 cusecs flew through it; he claimed it has taken long-term measures. He also added that the government had drained water from urban areas and was now working on rural areas, which is expected to be completed in the next forty-five days. (The Nation)
Other media recently reported that areas remain inundated, where people are in desperate need of food, medicines, and clean drinking water. Those who could move to less-flooded areas have done so; however, some of the most vulnerable communities, particularly marginalized minority communities, remain in the severely high risk areas where floodwaters pose threats, especially of disease and consumption of contaminated water. Transport and electricity are cutoff from many flooded areas that experienced extensive damage to infrastructure. Without assistance, families continue to sell what remaining livestock they have at below market rates in order to purchase much needed food and other necessities. They cannot survive long under these conditions; their plight will worsen rapidly if assistance does not reach them soon.
This is the second year in a row that the monsoon season has caused widespread damage in Pakistan, namely in Sindh. The monsoon season comes each year. Without efficient relief operations and early recovery that will include disaster risk reduction, especially against flooding, the country will continue to suffer major human and economic losses. The government of Pakistan, the local and national NGOs, and the international community must realize now the significance of ignoring the immediate and short-term needs including developing a better prepared and aware communities so that preventable losses can be avoided, not only in the long-term but in the immediate future.
CWS-P/A Response:
Most recently, CWS-P/A completed the distribution of nonfood items to 1,000 families in Thatta District. The included kitchen sets, hygiene kits, sleeping mats, mosquito nets, and other items. This was made possible with support from Danida.
The procurement process of an additional 2,000 NFI kits and additional 500 shelter kits is underway. These initiatives are part of the larger ACT Preliminary Appeal.
The procurement process continues for the distribution of 577 metric tons of food items for 2,000 affected families in Mirphurkas and Umerkot Districts. This intervention will ensure food support to these families for the next two months. This was made possible due to the generosity and support of the Canadian Foodgrains Bank through Presbyterian World Service and Development. Distribution will take place later this month.
Through the ACT Preliminary Appeal, CWS-P/A plans to assist 48,000 affected individuals in four districts: Badin, Thatta, Umerkot, and Mirpurkhas. The relief assistance comprises of food packages for 2,000 families for two months, nonfood items and temporary shelter for 4,000 families, and mobile health services to 12,000 individuals. Food packages meet or exceed Sphere minimum standards as follows: 2,248 kilocalories per person per day (107% of standard); 12% of calories from protein (100% of standard); and 17.8% of calories from fats (104.7% of standard). NFIs and health services are also according to Sphere standards.
CWS-P/A continues active coordination at the national and local levels. CWS-P/A's emergency response team members are conducting assessments, preparing for distributions, and ensuring quality and accountability of the planned response.
CWS-P/A believes firmly in community participation during assessments, identification, and implementation and is taking all necessary steps, including the standard CWS-P/A complaints response mechanism, to ensure it adheres to this commitment. After completion of needs assessments, CWS-P/A will aim to assist more affected individuals through the ACT Full Appeal.
CWS-P/A continues active coordination at the national, provincial, and district levels. CWS-P/A has also submitted its proposed response plans to the Rapid Response Plan (formerly referred to as UN Flash Appeal).