Situation Update: Snail Speed Aid Increases Risks in Sindh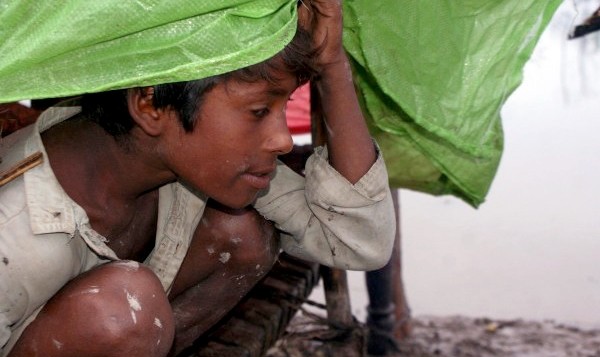 "We need shelter, and please help us get shelter. We have been buying some food with the little money we have. We just eat one time in a day and sometimes just water or roti (flat bread)," requests a displaced man living along the roadside in Mirpurkhas, speaking on behalf of his community as one of its elders.
Background:
Despite commitment from the humanitarian community in Pakistan, aid will not reach the millions of people in need because the funds are not coming. The U.N. Rapid Response Plan which requests for approximately USD 357 million has only received commitment amounting to 3%. This included USD 9 million from Japan and USD 726,744 in uncommitted pledges from Germany. This is the status ten days after the appeal was launched. The ACT Preliminary Appeal is less than 10% funded and most of this comes from transferring funds remaining from the previous year's flood appeal.
Slow aid was an issue at the start of the 2010 floods. This year, the problem is exacerbated by the combination of the government requesting assistance one month after the emergency occurred and the almost negligible response from the international and humanitarian community. The current scenario has adverse effects on the much-needed effort to help those in need. The result of which for the affected population is an increasing death toll, inflation of needs, and emergence of unimaginable risks.
A lot can happen to a disaster affected family in ten days. They face real possibility of dehydration, hunger, and starvation. Women, children, and the elderly are particularly vulnerable in terms of their safety, protection, dignity, and health. The list of risks and challenges is endless, and the families currently facing the situation in Sindh are also aware of these possibilities and must face their fears each day.
Thousands of aid workers are prepared and on the ground, but there is nothing to give and no way to provide the necessary assistance to save the lives or preserve the dignity of millions of people displaced and severely affected by the natural disaster.
CWS-P/A appeals to the international community and to its partners to send a message to their supporters. The people in Pakistan immediately need help—it is a matter of life and death on a large scale. Most of the affected people belong to impoverished and marginalized communities who are desperate for our support in helping them to recover from this disaster.
The cost to meet some basic needs of a family in Pakistan is not very much. It costs approximately USD 110 to provide a food package to last a family for one month, USD 50 to provide a nonfood item package including hygiene kit, and USD 240 for a shelter kit. Sometimes humanity needs to be shown to an individual but in some cases it must be demonstrated to an entire population. The affected communities in Pakistan will greatly appreciate support so that they can overcome their present situation and once again begin the road to recovery.
CWS-P/A Response:
Procurement process has also commenced for the distribution of 577 metric tons of food items for 2,000 affected families in Mirphurkas and Umerkot Districts. This intervention will ensure food support to these families for the next two months. This was made possible due to the generosity and support of the Canadian Foodgrains Bank through Presbyterian World Service and Development.
Through the ACT Preliminary Appeal, which has now been launched, CWS-P/A plans to assist 48,000 affected individuals in four districts: Badin, Thatta, Umerkot, and Mirpurkhas. The relief assistance comprises of food packages for 2,000 families for two months, nonfood items and temporary shelter for 4,000 families, and mobile health services to 12,000 individuals. Food packages meet or exceed Sphere minimum standards as follows: 2,248 kilocalories per person per day (107% of standard); 12% of calories from protein (100% of standard); and 17.8% of calories from fats (104.7% of standard). NFIs and health services are also according to Sphere standards.
CWS-P/A continues active coordination at the national and local levels. CWS-P/A's emergency response team members are conducting assessments, preparing for distributions, and ensuring quality and accountability of the planned response.
CWS-P/A believes firmly in community participation during assessments, identification, and implementation and is taking all necessary steps, including the standard CWS-P/A complaints response mechanism, to ensure it adheres to this commitment. After completion of needs assessments, CWS-P/A will aim to assist more affected individuals through the ACT Full Appeal.
CWS-P/A continues active coordination at the national, provincial, and district levels. CWS-P/A has also submitted its proposed response plans to the Rapid Response Plan (formerly referred to as UN Flash Appeal).