Situation Update: Sindh: On the Verge of Tragedy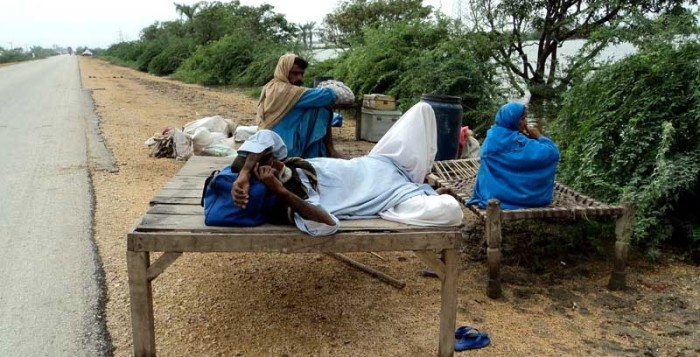 The calls for assistance are strong in Islamabad as millions of flood and rain affected people in Sindh remain without shelter and without the necessary food, healthcare, and safe drinking water to survive the coming months. On Saturday, September 30, the United Nations warned that diminishing relief items will soon be unavailable unless the international community comes forward and donates to the Rapid Response Plan, which is only 6% funded.
Background:
Thus far, the U.N. and its humanitarian partners have provided emergency shelter, medicines and consultations, food, and safe drinking water to hundreds of thousands of flood affected people. According to the U.N., if more funding is not received food stocks will run out within one month, safe drinking water supply in a few weeks, contingency stocks of emergency shelter will last only a few weeks, and one-third of the affected population could be without medical care in a month's time.
Allan Calma, CWS-P/A's Deputy Director Disaster Management Program, expresses, "The unmet needs in Sindh are a tragedy waiting to happen. The high prevalence of poverty in Sindh exacerbates the challenges of overcoming this disaster. The destruction of agricultural crops and loss of significant livelihoods means these communities have little or no resources with which to restart their lives. The international community, which has assisted Pakistan in their times of need, must once again come forward to help the millions of affected families."
Media depicts a plague of global disasters of one kind or another, happening more frequently and with greater losses. With an increasing number of disasters resulting in huge economic and social losses, the global community must do more to help the most vulnerable communities so that they can become more resilient and better prepared to deal with natural hazards, thus, reducing the financial strain on global disaster response. Aside from meeting the immediate needs for communities and countries like Pakistan facing the brunt of these natural disasters, greater effort must be made for alleviating poverty through sustainable development and rehabilitation that emphasize disaster preparedness and risk reduction.
The timely response from a few international partners is greatly appreciated, but CWS-P/A appeals for greater response so that it and the humanitarian community in Pakistan may help address the immediate needs of millions displaced and affected by this year's floods. At this time, the cost of slow response is greater suffering and losses. Continued slow response will lead to a tragedy of death, suffering, hunger, malnutrition, and abject poverty.
CWS-P/A Response:
In Thatta District, CWS-P/A has initiated distribution of tokens to 1,000 affected families who will receive nonfood items including kitchen sets, hygiene kits, sleeping mats, mosquito nets, and other items in the coming days. This is possible with support from Danida.
Procurement process has also commenced for the distribution of 577 metric tons of food items for 2,000 affected families in Mirphurkas and Umerkot Districts. This intervention will ensure food support to these families for the next two months. This was made possible due to the generosity and support of the Canadian Foodgrains Bank through Presbyterian World Service and Development.
Through the ACT Preliminary Appeal, CWS-P/A plans to assist 48,000 affected individuals in four districts: Badin, Thatta, Umerkot, and Mirpurkhas. The relief assistance comprises of food packages for 2,000 families for two months, nonfood items and temporary shelter for 4,000 families, and mobile health services to 12,000 individuals. Food packages meet or exceed Sphere minimum standards as follows: 2,248 kilocalories per person per day (107% of standard); 12% of calories from protein (100% of standard); and 17.8% of calories from fats (104.7% of standard). NFIs and health services are also according to Sphere standards.
CWS-P/A continues active coordination at the national and local levels. CWS-P/A's emergency response team members are conducting assessments, preparing for distributions, and ensuring quality and accountability of the planned response.
CWS-P/A believes firmly in community participation during assessments, identification, and implementation and is taking all necessary steps, including the standard CWS-P/A complaints response mechanism, to ensure it adheres to this commitment. After completion of needs assessments, CWS-P/A will aim to assist more affected individuals through the ACT Full Appeal.
CWS-P/A continues active coordination at the national, provincial, and district levels. CWS-P/A has also submitted its proposed response plans to the Rapid Response Plan (formerly referred to as UN Flash Appeal).