Situation Update: Income Opportunities Severely Threatened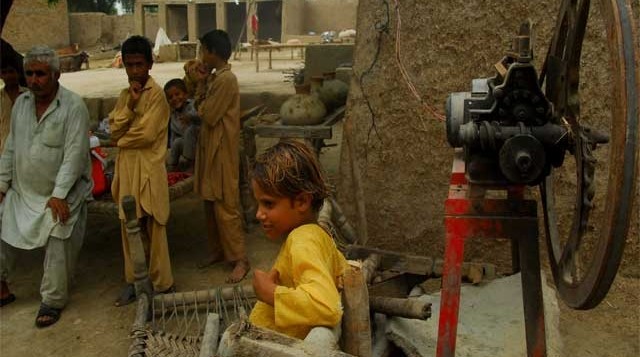 As the floodwaters have slowly started to recede in flood affected areas of Khairpur, other towns and villages in Sindh like Sujawal remain inundated. Reports indicate a huge loss of livestock in the flood affected areas. While local people share that at least 50% of their livestock have been affected, the remaining are in danger of a lack of fodder and maintenance. The FAO has estimated that some 200,000 cows, sheep, goats, buffalo, and donkeys have already been lost; however, the toll will possibly be in millions including poultry. Media sources state that fish farmers also express concerns over lower mark-up and the need for government grants because floodwaters have destroyed hundreds of fish farms across Punjab and Sindh.
Background
In Pakistan, livestock comprises about half of agricultural output and in most cases managing livestock is a source of income for many poor farmers and their families. These animals are among the few assets they own and provide a means of subsistence for large families. If cattle and sheep are purchased at an early age, they are usually reared until they can be sold for a higher price. As some families have started to return to their villages in other parts of the country, there is no doubt that many will find their animals missing along with their other belongings. Many farmers' crops were also washed away by the floods. In Sindh Province, about 80% of the population depends solely on agriculture as a means of income; in total, 45% of crop land is destroyed. The income earning potential for farming families is now almost non-existent.
Livelihood is not only affected for the farmers in Sindh. Throughout Pakistan, farming and animal rearing is a main source of income. Shah Jehan, a sixty-eight year old man with fourteen family members from Naiwella, D. I. Khan (Khyber Pakhtunkhwa), shares that his two sons are farmers. He says, "Our biggest problem is that there is no work left. How do we earn money? We do not want to be dependent on NGOs forever." Although Shah Jehan and his family remain grateful for food packages that CWS-P/A provided, he feels more assistance is needed. As life seems to be on stand-still, the family copes with many challenges including extreme heat, no electricity and clean water, and exposure to disease. "My uncle is also not well due to old age and medicines are not available here, and our doctor is actually a doctor's assistant in the city; he can only solve general problems. The stagnant water has caused a massive mosquito problem in our area, and there is no electricity at all. Tomatoes are available at Rs. 120 per kilogram, and we cannot afford many things like soap and hygiene items."
Farmers also depend upon their crops to provide food for their families. Without the crops and without an income to purchase food and other required goods, farming families are at high risk of food insecurity and inability to meet health and education expenses. The loss of livestock also means the loss of valuable nutrition for rural families, particularly the loss of access to non-purchased milk and eggs. In addition to edible products, various trees and plants also contain valuable attributes such as the medicinal purposes from neem trees. Aside from food, the country has lost valuable resources that could negatively impact other sectors, including health.
The effects of the loss in such a huge income sector for the country will negatively impact the national growth and export rates. Predictions are already made that Pakistan will experience zero or negative growth this year.
In order to save millions of people from the threat of food insecurity, attention must be given toward recovery of livelihoods. Just as millions of people are in immediate need of food, safe drinking water, and shelter, the affected population needs assistance to rebuild livelihoods, particularly to prepare for the next season's harvest and to replace lost livestock. The farmers need the income, and the country needs the agricultural outputs.
CWS-P/A Response
CWS-P/A recognizes the importance of continuing to reach vulnerable families with immediate food and non-food items. The organization plans to provide an additional 3,000 families with food and non-food items in Sukkur and Thatta and to also initiate two mobile health units in Khairpur and Thatta. At the same time, the organization is planning for early recovery. To assist in meeting medium-term health needs as well as rehabilitation of livelihood means, CWS-P/A identifies three early recovery initiatives. Construction Trade Training Centers, similar to the initiative developed for recovery of the 2005 earthquake, will help build the capacity within communities for reconstruction. Without resources, farmers and owners of small shops will face a longer period of food insecurity. Similar to its food security initiative for IDPs, CWS-P/A plans to initiate cash for work, vouchers, and cash grants to help reestablish agricultural livelihood. Continuation of health services while reconstruction of the government health facilities takes place is essential; CWS-P/A identifies the importance of the establishment and efficient management of basic health units for the affected communities. 
CWS-P/A continues its first round of food as well as NFI and shelter distribution in Sindh, Balochistan, and Khyber Pakhtunkhwa. It also continues services of its three mobile health units and six basic health units in Mansehra, Swat, and Kohistan.
Contacts
Allan A. Calma
Deputy Director
Disaster Management Program
allan@cwspa.org.pk
Cell: +92 301 5801621
Muhammad Fazil
Associate Director
Emergencies/DRR/Climate Change
fazil@cwspa.org.pk
Cell: +92 332 5586134
Kelli Siddiqui
Head of Communication
ksiddiqui@cwspa.org.pk
Cell: +92 302 5156273