Situation Update: Help Direly Needed in So Many Places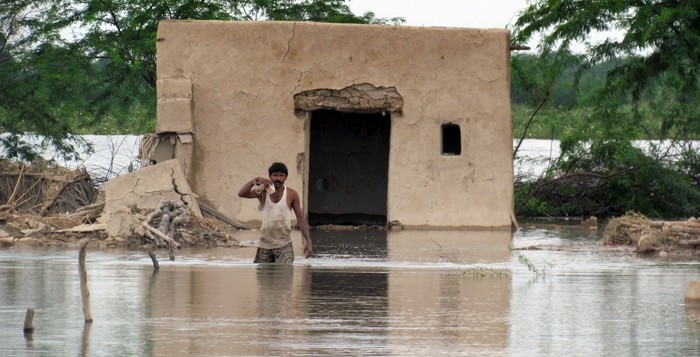 Understandably so, focus has been on the worst-affected districts, particularly Badin and Khairpur. However, places direly in need of assistance seem to be forgotten amidst widespread devastation across Sindh. With little media attention and little outside help, communities are left to fend for themselves.
Background:
One such place visited by CWS-P/A's assessment team yesterday is Pathoro Tehsil in Umerkot District. CWS-P/A's Ibrahim Khan describes, "What we observed in the field was quite alarming for us as the disaster is at peak at the moment, and there is no external support to locals. Secondly, even media is not completely updating the nation on the ground situation of districts Umerkot and Mirpurkhas. There is huge scope of work for the humanitarian sector, and they must come forward as early as possible to help the trapped community."
For the residents, it is a bleak situation. Without external support and no boats, they are resulting to innovative ways to escape the waters and salvaging what little they can. Everything is underwater or saturated. Fodder for livestock is bare or destroyed; malaria, snake bites, and acute respiratory infections are rising; the tehsil headquarters hospital is not operational due to the influx of water.
In this area visited by CWS-P/A, almost 90% of houses are damaged. In some houses, the water is six feet deep. People are drinking contaminated water and many have little or no food. Affected families are forced to buy food on credit and to slaughter or sell livestock to meet food needs, and the quality of food being consumed is greatly reduced. Acres of crops, mostly cotton and sugarcane, are lost. Farmers fear that it could take months for the waters to recede which would result in complete agricultural loss. Stored seeds and food are also destroyed. Compounding this with the need to sell livestock to meet immediate needs, the longer term outlook on agriculture and livelihoods brings only more concern to the people.
The affected communities are worried—worried about today and tomorrow. Beyond comprehension are problems other than food and shelter. In these areas, it is customary for people to use open fields instead of latrines; however, with little dry land and no available open fields, they are facing difficulty in finding places. This is particularly detrimental for women and children, who seek privacy for such purposes. There is no protection and no privacy at a time when needs are so great. Rising cases of snake bites seem scary, but what about for the people living in fear? Sleeping on the ground or forced to enter deep waters is a constant reminder of snakes and other concerns. The affected communities are not surviving day to day but rather moment to moment.
The immediate needs are extensive—food, shelter, medicines and health services, sanitation, and drinking water. However, these needs do not stand alone. Alongside the provision of basic relief, the humanitarian community must take responsibility to address the issues related to social protection. Appropriate assistance is needed for children, women, the elderly and infirm, and communities vulnerable to severe food insecurity and health risks. "Children are the most vulnerable in any emergency – in this disaster, many are experiencing the devastating effects of a flood emergency for the second time in a year. Their coping mechanisms were already weak and their vulnerabilities high," describes Dan Rohrmann, a UNICEF Pakistan representative.
This observation extends beyond children to the community at large which faces poor access to food and nutrition, health care, and social and economic opportunities. Media reports hundreds of thousands of pregnant women do not have access to the care they need. Provisions to meet special needs for the elderly and disabled are also lacking.
Every effort should be made to bring quality relief services in the most accountable way, and all across Sindh communities are in dire need of assistance. There are many places experiencing the devastation like the community residing in Pathoro, and their survival and recovery depends upon them not being forgotten.
CWS-P/A Response:
Through the ACT Preliminary Appeal, which has now been launched, CWS-P/A plans to assist 48,000 affected individuals in four districts: Badin, Thatta, Umerkot, and Mirpurkhas. The relief assistance comprises of food packages for 2,000 families for two months, nonfood items and temporary shelter for 4,000 families, and mobile health services to 12,000 individuals. Food packages meet or exceed Sphere minimum standards as follows: 2,248 kilocalories per person per day (107% of standard); 12% of calories from protein (100% of standard); and 17.8% of calories from fats (104.7% of standard). NFIs and health services are also according to Sphere standards.
The aforementioned appeal is in addition to CWS-P/A's initial response of 125 tents, 500 blankets, and 750 food packages to affected families in Thatta. The distribution of tents and blankets took place today while food package distribution is expected tomorrow. CWS-P/A also continues to provide health services to the affected population in Badin through its existing basic health unit.
CWS-P/A continues active coordination at the national and local levels. CWS-P/A's emergency response team members are conducting assessments, preparing for distributions, and ensuring quality and accountability of the planned response.
CWS-P/A believes firmly in community participation during assessments, identification, and implementation and is taking all necessary steps, including the standard CWS-P/A complaints response mechanism, to ensure it adheres to this commitment. After completion of needs assessments, CWS-P/A will aim to assist more affected individuals through the ACT Full Appeal.
CWS-P/A continues active coordination at the national, provincial, and district levels. It maintains regular liaison with government line departments. CWS-P/A is an active member of the Pakistan Humanitarian Forum (PHF) that includes many international NGOs and donor agencies. CWS-P/A also shares responsibility for representing the PHF at the Inter Agency Standing Committee (IASC). CWS-P/A is attending general coordination meetings as well as different cluster meeting organized by the UN. Within this cluster system, CWS-P/A is actively participating in clusters, namely on Food, Shelter, Health, WASH, Livelihood, Education, Early Recovery, and coordination and is also part of the UN Cluster Appeal.
CWS-P/A has also submitted its proposed response plans to the Rapid Response Plan (formerly referred to as UN Flash Appeal).