Home
CWS-P/A
Situation Update: "Heavy Rains Forecasted in Pakistan; Urban and River Flooding Likely"
Situation Update: "Heavy Rains Forecasted in Pakistan; Urban and River Flooding Likely"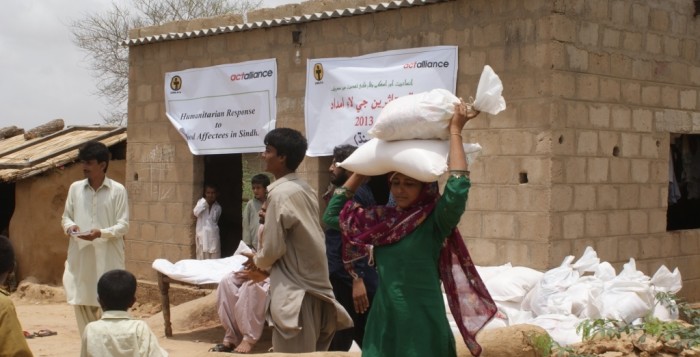 Background:
The monsoon rains in Pakistan inundated low lying areas and have caused widespread damages to property, infrastructure, and loss of human lives in Khyber Pakhtunkhwa (KP), Sindh, Punjab, and Balochistan provinces of Pakistan. On August 11, 2013, the National Disaster Management Authority (NDMA) said 84 people died and 91 sustained injuries in flash floods this year across the country. According to the NDMA data, 15 people died in Punjab, 14 in KP, 22 in Sindh, 18 in Balochistan, 12 in the Federally Administered Tribal Areas (FATA), and three in Azad Jammu and Kashmir (AJK).
Likewise, 65 people sustained injuries in Punjab, 13 in Khyber Pakhtunkhwa, 10 in Sindh, two in Balochistan, and one in AJK. A total of 84,272 people were displaced as a result of the floods with 354,982 acres of land area affected including 135,078 acres of crops.
Some 1,832 houses were damaged partially and 2,270 destroyed completely. A total of 333 villages were affected. NDMA said it was providing essential items to 2,855 people in 21 relief camps established in the flood-hit areas. As far as the relief efforts are concerned, NDMA has so far distributed 25,998 tents among the flood-affected people.
NDMA is currently responding to the needs of the flood-affected population through the provision of food and tents.
Current Situation:
Widespread rain that might be very heavy to extremely heavy at places is likely to generate river and urban flooding from August 12 to August 13, posing a substantial threat to life and property over vast areas.
The rain will be caused by a combination of a very strong westerly wave and a monsoon low pressure over the Indian states of Madhya Pradesh, Rajasthan, and Uttar Pradesh, according to warning issued by the Pakistan Meteorological Department (PMD) on August 11, 2013.
Due to the interaction of two systems, heavy to extremely heavy rain is expected in Rawalpindi, Sargodha, Gujranwala, Lahore, Hazara, Mardan, Peshawar, and Kohat divisions and Kashmir from August 12 to August 14, 2013. Scattered heavy rain is expected in Dera Ghazi Khan, Dera Ismail Khan, Zhob, Sibi, and Naseerabad divisions.
PMD forecasts flash floods in vulnerable districts of Malakand, Hazara, Mardan, Peshawar, Rawalpindi, Sargodha, Gujranwala, and Lahore divisions and Kashmir on August 12 and August 13, and in D.G. Khan, D.I. Khan, Zhob, Sibi, and Naseerabad on August 14 and August 15.
PMD's Lahore based Flood Forecasting Division (FFD) said there was every likelihood of high to very high flood in the rivers Chenab and Jhelum and their tributaries (Bhimber, Bhundar, Halsi, Daulti, Aik, Palku, Kahan and Bunnah) in the Sialkot region.
The rivers Kabul, Kurram, Gambila, and their tributaries along with those of the Ravi (Deg, Bhed, Hasri, Jhajri, Bassantar, Bein, Ujh, and Tarnah) are also likely to be in high to very high flood.
Urban flooding is likely in Lahore, Gujranwala, Faisalabad, Sargodha, Rawalpindi, Dera Ismail Khan, Peshawar, Kohat, Bannu, Malakand and Hazara from Aug 13 to 15.
Flash flooding cannot be ruled out in the hill torrents of D.G. Khan.
PMD advised all authorities concerned to remain alert during the week, particularly from August 12 to August 14, 2013.
CWS-P/A Response:
Currently, CWS-P/A is closely monitoring the situation and the teams are ready to start rapid need assessment depending on the severity of the flood situation.
Last week, CWS-P/A distributed one-week food packages to 250 flood-affected families in Thatta District, Sindh.