Situation Update: Health Risks Threaten Millions of Women and Children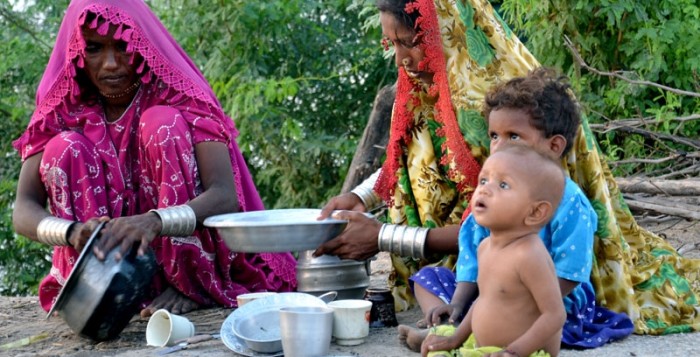 Heavy rains and flooding throughout Sindh Province have left millions vulnerable to serious health risks. The UN estimates that 5.4 million people have been directly affected, with 1.8 people being displaced. Many affected communities are facing the destruction of their livelihoods two years in a row. The conditions in which the affected population is living present major health risks, particularly for women, children, the elderly, and marginalized minority communities.
Background:
Crowding in the temporary shelters and makeshift camps as well as the general lack of sewage systems and sanitation facilities has created an environment highly conducive to the spread of disease. Livestock killed by the flooding also presents a serious hazard as corpses attract disease-carrying flies and mosquitoes.
CWS-P/A's local partner, IIRE, reports that the severity of health issues is increasing with each passing day. Gastroenteritis and diarrhea are common. It says that women and children face the most serious conditions; on Monday, one mobile health team treated 134 individuals of which more than half were children.
WHO has raised concerns about the lack of healthcare facilities in the region, as 224 of the 839 health facilities which serve the population are currently inaccessible due to damage caused by flooding. Communicable illnesses including waterborne, vector-borne and airborne disease pose a serious threat to the millions of vulnerable people in flood-affected areas, a problem which has been severely exacerbated as people are without clean water and are using dirty water for washing and consumption.
The NDMA has reported that an estimated 120,000 pregnant women are among the affected population. The UNFPA adds that of this number, 350 women can be expected to go into labor every day while a further 50 women will experience life threatening pregnancy-related complications. These women are in dire need of medical assistance yet face a dangerous lack of resources, support, and supplies as many areas remain cut off from the aid provided by government authorities and international bodies.
UNICEF emphasizes the dangers for children, who are always the most vulnerable in any emergency situation. The number of children affected by the rains has now reached 2.7 million. Susceptibility to disease will be greatly increased by poor hygiene, malnutrition, and the lack of clean water, raising fears about the safety of children.
The highly contagious nature of illnesses associated with flooding and subsequent emergency conditions makes the need for assistance increasingly urgent as medical supplies are predicted to run out by the end of the month and many people remain beyond the reach of help.
Mobile health units and other health services help bring life-saving support to communities affected by disaster. Responding to the health needs is more than making services available. They must be accessible to the most vulnerable communities and also provide the type of services needed. Pakistan has a severe shortage of trained female health workers, but at this time, lady health workers as they are called here, are direly needed. In addition to medicines and preventive and curative health services, health initiatives should also raise awareness among affected communities on issues related to mother and child care, waterborne diseases, and good hygiene practices. By responsibly providing health care and education, the humanitarian community can help reduce the risks and number of unnecessary deaths.
With damages to the existing health facilities, recovery will also require repair of facilities and restoration of health services. It will present an opportunity for improving the quality of healthcare in the province, particularly for mother and child care, and for raising the general awareness of health related issues.
CWS-P/A Response:
Procurement process has also commenced for the distribution of 577 metric tons of food items for 2,000 affected families in Mirphurkas and Umerkot Districts. This intervention will ensure food support to these families for the next two months. This was made possible due to the generosity and support of the Canadian Foodgrains Bank through Presbyterian World Services and Development.
Through the ACT Preliminary Appeal, which has now been launched, CWS-P/A plans to assist 48,000 affected individuals in four districts: Badin, Thatta, Umerkot, and Mirpurkhas. The relief assistance comprises of food packages for 2,000 families for two months, nonfood items and temporary shelter for 4,000 families, and mobile health services to 12,000 individuals. Food packages meet or exceed Sphere minimum standards as follows: 2,248 kilocalories per person per day (107% of standard); 12% of calories from protein (100% of standard); and 17.8% of calories from fats (104.7% of standard). NFIs and health services are also according to Sphere standards.
CWS-P/A continues active coordination at the national and local levels. CWS-P/A's emergency response team members are conducting assessments, preparing for distributions, and ensuring quality and accountability of the planned response.
CWS-P/A believes firmly in community participation during assessments, identification, and implementation and is taking all necessary steps, including the standard CWS-P/A complaints response mechanism, to ensure it adheres to this commitment. After completion of needs assessments, CWS-P/A will aim to assist more affected individuals through the ACT Full Appeal.
CWS-P/A continues active coordination at the national, provincial, and district levels. CWS-P/A has also submitted its proposed response plans to the Rapid Response Plan (formerly referred to as UN Flash Appeal).