Situation Update: Food, Health, and Shelter Needs in Northern Afghanistan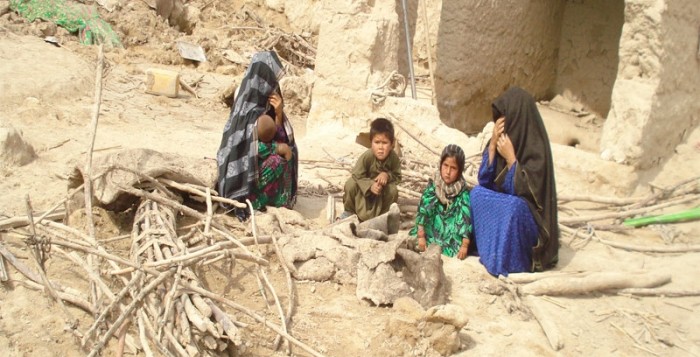 Background:
Following the series of rains, floods, and landslides, the affected population scattered across the north of Afghanistan face challenges in accessing shelter, water, food, and health services. In the most severely affected province, Jawzjan, a district governor informed CWS-P/A that 68% of villages in Khwaja Do Ko District were partially or completely destroyed. She added that assistance in terms of tents and basic food items have been distributed by humanitarian organizations; however, more assistance in needed. Up to three families are living in one tent and many families lack the required facilities for cooking. She prioritized medicines and health services, tents, drinking water and sanitation, and food and kitchen items.
Families in the districts of Khwaja Do Ko, Khwish Tipa, and Darzaba similarly expressed their needs.
Mammila, 35, lived with her husband, children, and extended family members. The floods claimed the lives of her husband and all but one son and washed away household belongings. She is left to care for her elderly mother-in-law, her five year old son, and a young niece and nephew. "Nowadays, we do not have shelter. Urgently, we need a tent, food, and drinking water. We have to bring clean water from very far away. We also need medical assistance."
Gul Bashra, 30, is the mother of eight children. "All of our property and livestock are lost; our food stock, furniture, and household items are lost. The people are trying very hard to find my missing husband alive or his dead body," shared Gul Bashra before official rescue operations were called off on Saturday, May 3. "I received a tent and a package of food, but it is not enough. We need an additional tent, food, carpets, kitchen items, a mattress, clean water, and medicines."
CWS-P/A's emergency response team, including members of its health program, also identified specific health and psychosocial support needs. Khal Mohammad, 23, is the surviving member of his family, which included his mother, father, an older brother, and three younger siblings. The team found Khal Mohammad alone and in a state of deep depression. Without any family member to assist him and with his house and agricultural land destroyed, the CWS-P/A team immediately referred him to the provincial hospital.
According to a 2011 provincial profile by the Ministry of Rural Rehabilitation and Development, a basic infrastructure of health services exists in Jawzjan including health facilities, mobile clinics, sub-health clinics, basic health centers, comprehensive health centers, two district hospitals, and two provincial hospitals. However, a majority of communities do not have a health worker present, and only 3.9% of the population have a health center and 3.5% have a dispensary within their village. Approximately half of the population must travel more than 10 kilometers to seek medical services.
Damages to personal property, roadways and bridges, and difficult access caused by ongoing rains and flooded areas further limit affected communities' ability to access health services and medicines. Poor living conditions and insufficient sanitation and drinking water pose widespread health risks. Preventive measures need to be taken to prevent outbreaks of communicable and waterborne diseases.
Food insecurity and malnutrition will further exacerbate health issues in the affected communities. Therefore, it is essential that the most vulnerable, affected families gain immediate access to proper shelter, sufficient food and nutrition, and emergency health services.
CWS-P/A Response:
CWS-P/A is coordinating with the Afghanistan National Disaster Management Authority (ANDMA), UNOCHA, ACT members in Afghanistan, and local authorities. It assessed the situation in Jawzjan Province and plans a response in health, food, and NFIs.
Currently, CWS-P/A's emergency response team is visiting Badakhshan Province for coordination and to assess the situation.