Situation Update: Floods bring more deaths and destruction and triggers exodus in Sindh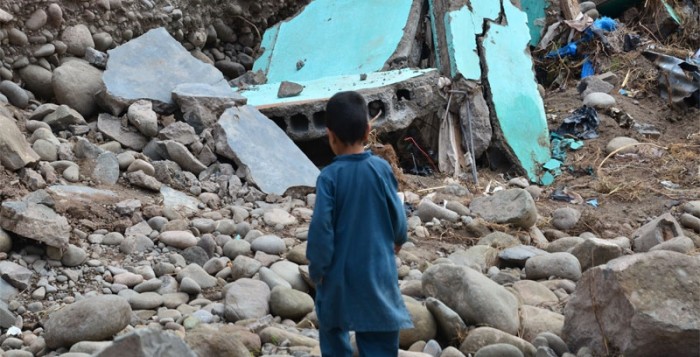 Background:
According to the National Disaster Management Authority (NDMA), the death toll from floods is 317 people. Over 2,274,690 people have been affected in the country. In Punjab alone there are now 2.23 million people affected, 34,052 houses damaged, and 2,909 villages affected. In Azad Jammu & Kashmir, 64 people have died and 46,496 people are affected by floods.
The Pakistan army, civil administration, and humanitarian agencies are carrying out relief and rescue operations through 360 relief camps set up in different areas. The news sources also reported that army helicopters are dropping food packs and moving stranded people to safe places by boats and helicopters.
According to reports from upper Sindh, most of the protective bunds which had developed breaches during the 2010 floods have been repaired, but as noted by the Sindh chief minister during his visits to the bunds last week, the work has not been satisfactory. Online media also reports that in Ghotki, the Qadirpur loop bund, Shaink bund, and other bunds are reportedly in good enough condition to withstand a medium-level flood. On the other hand, if the Machko bund in Ubauro, situated in the limits of Rahim Yar Khan District is breached, the water will flood lands in Sindh.
Pakistan remains among the top three countries most vulnerable to climate change related disasters. While the allocation of funds for water infrastructure is also insignificant, provinces are responsible for water infrastructure said an online media source. More specifically, the Federal Flood Commission recommends doable projects where vulnerable areas are identified.
A print media source shared that irrigation officials informed about floodwaters that inundated hundreds of acres of agricultural lands in the katcha parts in Sukkur. Furthermore, affected families along with their cattle were being shifted to relief camps set up at several hundred schools as well as tent villages established on strengthened dykes. Medical camps have also been set up at these relief camps and tent villages. Thousands of residents of katcha areas of Sukkur, Gambat, Khairpur, Kingri, Baberloi, and other talukas were asked to vacate their villages and move to safer places to avoid loss of life, property, and assets.
CWS-P/A Response:
At present, CWS-P/A's disaster response team is on field in Haveli to complete assessments. A total of 175 families (1,295 individual) have received food and non-food items in Bagh District. All distributed items are based on Sphere standards and designed to meet the average-sized family's (7-8 members) needs. This distribution is made possible through financial contributions from Christian Aid and Primate's Word Relief and Development Fund, who have promptly and generously contributed toward the ACT Appeal launched on September 9.
The ACT Appeal which aims to assist 2,000 families with food for three months, 1,000 with non-food items, 400 shelter kits, and 3,000 families (22,200 individuals) with health assistance in three districts of Azad Kashmir requires immediate support to ensure timely assistance to affected families.
An immediate week-long response by CWS-P/A's health team which included a doctor, a lady health visitor, and a medical dispenser assisted affected community members in Bagh District, Azad Kashmir. A total of 793 people have received emergency medical consultations and free medicines. As many as 68 women received antenatal care (ANC), 15 received postnatal care (PNC), and 148 children under age five received assistance.
The health teams conducted six health education sessions attended by 94 community members on antenatal/postnatal care, cholera, gastroenteritis, typhoid, polio, hepatitis, and HIV&AIDS. Commonly treated illnesses included upper respiratory tract infections and diarrhea while chronic illnesses including diabetes and tuberculosis were also diagnosed.
The MHU was strategically located near a camp settlement making access to health services easy for the individuals who have lost their homes and are living in the camp and for those in the surrounding area.
CWS-P/A's staff members attended a district coordination meeting yesterday in Thatta District, Sindh Province. CWS-P/A's mobile knowledge resource center (MKRC) was displayed outside the meeting venue and will continue to disseminate disaster risk reduction knowledge to the vulnerable communities in the district in coordination with local authorities. CWS-P/A continues to work with communities to increase knowledge and preparedness for disaster risk reduction through various awareness sessions, its mobile knowledge resource center (MKRC), and building leadership capacities of village organizations (VOs) and community organizations (COs). Examples of preparedness at the community level include having an evacuation plan and emergency kits ready.
Furthermore, quality and accountability will be enhanced through capacity building initiatives for aid workers and for affected communities in accessing accountable aid services. A complaints response mechanism is in place to encourage communities to launch complaints if necessary during interventions. CWS-P/A continues to monitor the situation in other parts of the country and subjected to the need, will expand its operations to other affected regions.
Source: