Situation Update: Flood Emergency in Sindh Threatens More Lives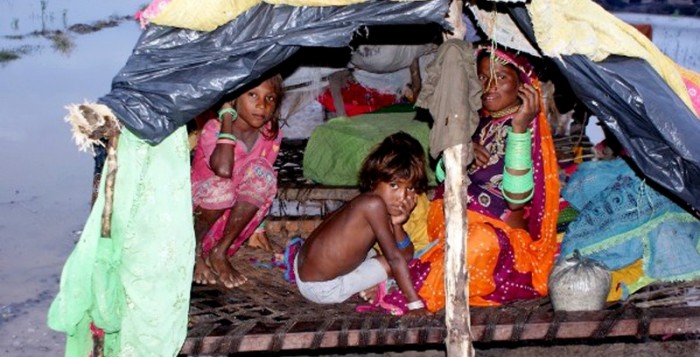 The situation in Sindh has worsened due to torrential rains which continued over the weekend. The monsoon rainfalls which began a month ago have caused huge displacements while nearly one million homes have been destroyed or damaged.
Background
UNICEF has shared that up to 2.5 million children have been affected by the severe monsoon floods in Sindh. Many of those who have been affected are still recovering from last year's worst flooding in the country's history. Thirty-nine percent of the 199 lives claimed by the floods have been women and children. Flood affected communities currently are at risks of food shortages and waterborne diseases. For women and children the risks remain even greater as they reside temporarily in government buildings, schools, and makeshift settlements.
Over 1.7 million acres of farmland have been destroyed. Media reports that the low lying areas of Mirpurkhas are submerged including the railway subway bridge. At present, power supply has been suspended in many areas across Sindh and the road connecting Obaro, a village in Ghotki District, and Kashmore District has been cut off in order to allow for excess water to drain. Inaccessibility to some areas presents challenges for people to evacuate to safer ground and for humanitarian assistance to reach the cutoff areas.
The government is providing assistance to evacuate people; recent reports tell that 100,000 people are being moved from Badin to Thatta, with some having reached today. The influx of displaced persons will require greater coordination of relief assistance to ensure that the most vulnerable families receive immediate assistance. Aside from meeting basic needs for food and shelter, it is imperative that special needs, particularly for women and children, regarding protection and health are also met.
CWS-P/A Response
CWS-P/A dispatched tents and blankets that will be ready for distribution in Thatta on Wednesday. An initial round of food packages will also reach Thatta by the end of the week. A CWS-P/A-run basic health unit in Badin is providing emergency health services to the flood-affected population.
CWS-P/A has planned to carry out its emergency response in four flood affected districts: Badin, Thatta, Umerkot, and Mirpurkhas. Currently, it aims to provide food, NFI, emergency shelter (tents), and mobile health services in all four districts based on the needs identified in the assessments received from the field which will be conducted during the week.
CWS-P/A continues to maintain close coordination with its staff and partners. It also regularly participates in coordination meetings. CWS-P/A is committed to ensuring quality and accountability throughout the response and is taking necessary steps to comply with Sphere and HAP standards.
A Preliminary Appeal will be released shortly.