Situation Update: Death Tolls Increase in Flood Affected Regions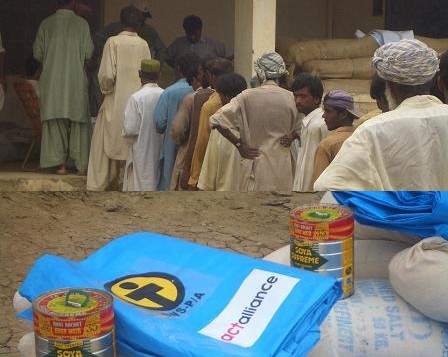 As the floodwaters continue to pose severe threats to the people of Khyber Paktunkhwa, Balochistan, and Punjab, the death toll has reached 1,400 in the province of Khyber Paktunkhwa alone. Bannu, Lakki Marwat areas, Nowshera, and Charsadda especially are reported to be severely affected.  The flash floods have claimed 60 lives in Balochistan while violent waves of the Indus River have surged into Kot Addu in Muzaffargarh where heavy rains are expected in southern and western Punjab.
Background
Well over 800 deaths have been reported in Punjab where at least 110 villages and towns were submerged due to floods rendering 250,000 people homeless.
The two major barrages, Guddu and Sukkur, in Sindh are expected to receive high levels of water flows. Informed sources have shared the capacity of the Guddu barrage had declined because of silting and had been initially designed for 1.2 million cusecs. In district Dadu, about 270 villages have been declared at high risk and relief camps have also been set-up which will provide basic needs to the flood affectees of Ghoktiki, Sukkur, and Dadu. In addition, heavy rains are expected all over the province of Sindh for the next four days.
Railways, roadways, and communication have been widely disrupted. The floods in Baktiarabad Village have disrupted rail traffic linking Quetta-Balochistan with the rest of the country.  Road networks linking Peshawar District have been badly affected by the rains and flooding.
Media sources have shared that the Pakistan Railways have declared to transport relief goods free of charge to the flood-hit areas of Khyber Paktunkhwa and Balochistan while the Pakistan Pharmaceutical Manufacturers Association (PPMA) has donated Rupees 12.5 million worth of medicines for flood affectees.
The government in its efforts in Swat has decided to give relief to flood affectees during the holy month of Ramadan, which would commence within the next ten days. Military sources also shared that efforts would begin in the construction of a bus stand and the Kanju and Kawaza Kehla bridges on a temporary basis to restore travel in the area. Furthermore all government schools in the region continue to remain closed due to heavy rains and flooding. A total of 38 tube wells have been damaged in the city of Mingora, and residents belonging to nine union councils have no access to clean drinking water
Saleem Dominic, CWS-P/A Senior Project Officer, shares, "There are around 400 houses in Sultan Kot, Sibi District, Balochistan and 98% of the houses are severely damaged. People have been grateful for the food packages they have received and especially with the amount of items they contain."
CWS-P/A Response
CWS-P/A team together with its local partners has completed the distribution of 250 food packages as per Sphere Standards and shelter material (plastic sheets) in Sultan Kot Talli Union Council, District Sibi, Balochistan. In D. I. Khan food distribution has started today and is ongoing.
CWS-P/A, under PRDA, has put on hold the distribution of plastic sheets to the flood affected families of Allai due to rainfall. The procurement of 500 food packages is underway and distribution is expected to start on August 10.
Upon urgent request from Tehsil Head Quarter Hospital of Balakot, CWS-P/A has donated emergency medicine and medical supplies to the hospital in providing health service to affected communities. Most of the donated medicines comprise of infusions to overcome dehydration.
One mobile health unit is providing emergency health assistance in Mansehra.
The mobile health team has treated 65 patients in Punda Balla Village and Shah Ismailabad.
CWS-P/A continues its efforts on promoting quality and accountability at the national level. Planned activities include advocacy and information facilitation centers at field level through local partners. CWS-P/A has planned 10 introductory workshops for humanitarian organizations on Sphere Standards and HAP in different cities of Pakistan to ensure quality and accountability in humanitarian response for the flood affected people of Pakistan.
Contacts
Allan A. Calma
Deputy Director
Disaster Management Program
allan@cwspa.org.pk
Muhammad Fazil
Associate Director
Emergencies/DRR/Climate Change
fazil@cwspa.org.pk