Situation Update: Assistance Needed Now to Address Food Insecurity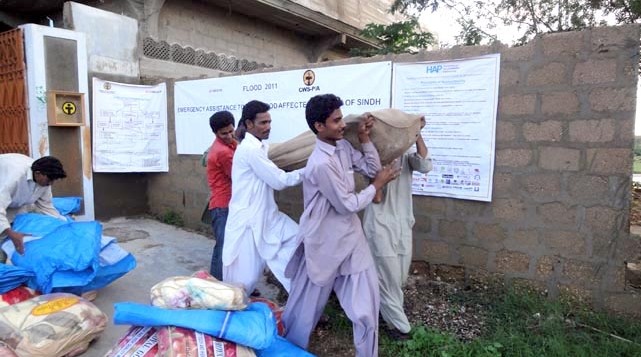 As the humanitarian community reports the findings of needs assessments, the plight of the affected, particularly the displaced population, is a dire situation which requires immediate response. Over 5.4 million people are affected, 1.8 million of whom are displaced. Shelter, food, healthcare and medicines, and protection are needed. Within these broad categories exists a plethora of needs that the millions of affected individuals face for which immediate attention is required, particularly for women, children, the elderly, the disabled, and marginalized communities.
Background:
As the government, UN, and other I/NGOs appeal for humanitarian assistance for the immediate relief of flood and rain affected communities, the displaced population faces an ever-increasing challenge of meeting basic needs.
Although there is a multitude of concerns, food and nutrition security is a major concern which needs to be addressed immediately through provision of food and supplements and in the long term through agriculture and livelihoods restoration. Sindh is predominately dependent upon agriculture and livestock. According to information shared by the Food and Agriculture Organization (FAO), 70% of standing crops have been destroyed, a majority of which is cotton. Standing water poses a threat of additional loss of sugarcane and rice fields. It further adds that 1,000 fish farms and 800 poultry farms are also affected.
From Mirpurkhas District, displaced farmer, Jam Joseph shares his concerns with CWS-P/A's Donna Fernandes, "Three acres of my crops have been submerged in water and the wheat we saved for home consumption." Jam and his wife, Mebhai, both worry about a shortage of food threatening their family. "We do not have crops; we saved sixty maunds (2,400 kilograms) of wheat for food and that has all gone away."
In Sindh, where last year's floods and pre-existing poor conditions for food and nutrition security left millions unable to access sufficient quality and quantity of food, this is a major devastation for farming families. In these months immediately following this year's disaster, not only do families require assistance meeting food consumption needs, they need assistance to quickly rehabilitate agricultural lands. The next planting season will begin in approximately five weeks. Major crops to be planted include wheat and pulses. If the planting season is missed, it will severely affect next spring's harvest, income earning opportunities, food supply, and also increase the longevity of threats of food insecurity and high prevalence of malnutrition in Sindh with affects throughout the country.
Other factors such as inaccessibility to quality health services and increasing family debt to meet immediate food and basic needs worsen the severity of food and nutrition insecurity. For this reason, it is imperative the humanitarian response includes a comprehensive approach to relief and recovery that is delivered timely and in the most accountable way so that the affected communities, especially the most vulnerable, can overcome the challenges of today while decreasing the risks of tomorrow.
CWS-P/A Response:
CWS-P/A completed initial distribution of 125 tents and 500 blankets last week. It has recently completed distribution of approximately 140 metric tons of food which will benefit an estimated 8,000 individuals by providing them sufficient food to last for one month. These relief items were dispatched within two days of the government's appeal for humanitarian assistance and were made possible with support from DanChurchAid (DCA). DCA, through DANIDA, also plans to contribute to toward the ACT Appeal through a material aid grant composed of Non-Food Item packages for the affected families in Thatta.
So far, CWS-P/A, through its implementing partner, provided mobile health services to hundreds of affected families in Badin District. The community in Badin is also experiencing an influx of displaced families who are taking refuge along roadsides and who are among the recipients of CWS-P/A's health services.
Through the ACT Preliminary Appeal, which has now been launched, CWS-P/A plans to assist 48,000 affected individuals in four districts: Badin, Thatta, Umerkot, and Mirpurkhas. The relief assistance comprises of food packages for 2,000 families for two months, nonfood items and temporary shelter for 4,000 families, and mobile health services to 12,000 individuals. Food packages meet or exceed Sphere minimum standards as follows: 2,248 kilocalories per person per day (107% of standard); 12% of calories from protein (100% of standard); and 17.8% of calories from fats (104.7% of standard). NFIs and health services are also according to Sphere standards.
CWS-P/A continues active coordination at the national and local levels. CWS-P/A's emergency response team members are conducting assessments, preparing for distributions, and ensuring quality and accountability of the planned response.
CWS-P/A believes firmly in community participation during assessments, identification, and implementation and is taking all necessary steps, including the standard CWS-P/A complaints response mechanism, to ensure it adheres to this commitment. After completion of needs assessments, CWS-P/A will aim to assist more affected individuals through the ACT Full Appeal.
CWS-P/A continues active coordination at the national, provincial, and district levels. CWS-P/A has also submitted its proposed response plans to the Rapid Response Plan (formerly referred to as UN Flash Appeal).