SITUATION ALERT:New Influx of the IDPs from North Waziristan Agency likely to take place in Neighboring Districts"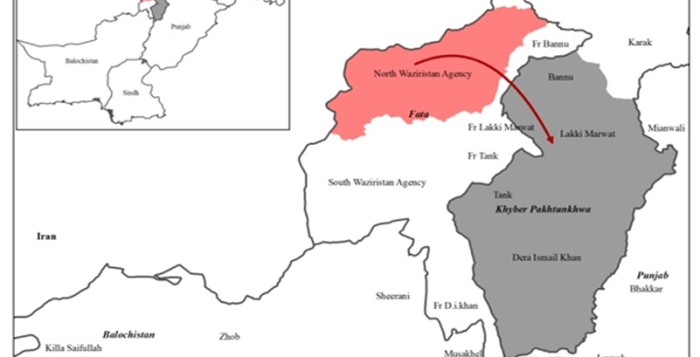 Background:
Since the last nine years, the complex emergency caused by military operations and violent clashes between armed opposition groups has imposed miseries upon millions of people who have been displaced from their homes. At one time, the number of displaced people reached three million however, with the change in the situation at the IDP's native town some have returned back resulting in lower numbers. Still the conflicts remain leading to new displacement.
Recent Displacement from North Waziristan Agency
In 2013, with the change in the command of TTP (Tehreek Taliban Pakistan) after the killing of its leader, the attacks on army posts and convoys increased.. The recent suicidal attack on a mosque in the khajuri check post in Mirali of North Waziristan Agency had claimed four lives of four army personal leaving several injured. This has resulted in the launch of small scale military operation against the militants. The Government is also making attempts for peace talks with Taliban Groups. There is still no sign of large scale military operation. However, this small scale military operation may expand in case peace talks remain unsuccessful leading to an influx of IDPs from North Waziristan Agency to the neighboring settled districts of Bannu, Lakki Marwat, Tank, and DI Khan. As per recent updates, people have started out moving from the affected areas to the nearby safer places. Owing to the imposition of curfew and small scale operations and clashes between army and militants, they have been unable to move freely. The Government has not yet declared emergency and not taken any measures for the IDPs formal settlement and response. However, if the situation prolongs then it will declare the emergency and will ask humanitarian agencies for assistance.
CWS-P/A Response:
CWS-P/A is currently monitoring the situation and is in contact with local partners and concerned Government departments regarding the situation. Although the areas have not been notified by the Government therefore no response or registration process has been initiated. The emergency response team of CWS-P/A is on standby in case the emergency is declared and the need arises to respond.