Situation Alert: Government Appeals for Assistance in Flood-affected Sindh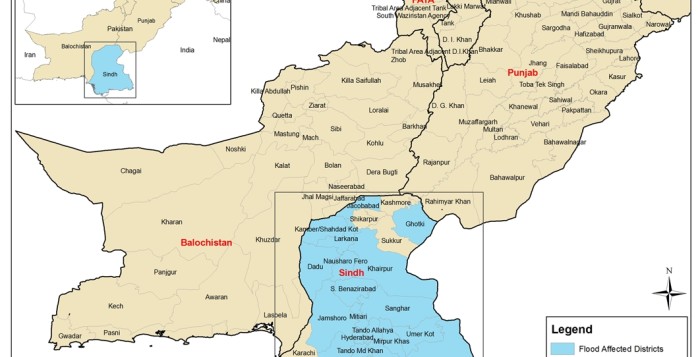 In a meeting with the Humanitarian Coordination Team in Islamabad, the National Disaster Management Authority appealed for international humanitarian assistance nearly a month after monsoon rains started devastating parts of Sindh Province. The government called for a coordinated response and, accordingly, expressed current expectations for the humanitarian organizations to contribute their intended response plans to a United Nations Flash Appeal. Five clusters have been identified: food, health, WASH, shelter, and protection.
Background
Approximately 5 million people are affected in the province, with more than half of the affected population residing in Khairpur and Badin districts. As of September 5, 2011, the Provincial Disaster Management Authority (Sindh) revealed that more than 130 human deaths had occurred and more than 64,000 livestock deaths. Approximately, 700,000 homes were damaged and more than 1.7 million acres of crops are affected.
Of the total affected population, PDMA confirmed that 131,410 people are residing in 1,484 camps as of September 5. The majority of the population is without access to shelter, food, medicines, and clean drinking water. The pre-flood economic position of affected communities worsens their chances of meeting their basic needs. Agriculture and livestock provide the majority of income in the province. With these widely destroyed, families are without economic resources and income earning opportunities to purchase food. Inadequate access to health facilities adds to the concerns for waterborne diseases and nutrition deficiency. The current situation also adds to food and drinking water shortages already prevalent in rural Sindh.
Timely assistance is absolutely necessary to save lives. Aside from meeting basic survival needs of shelter, food, drinking water, and health care, humanitarian organizations must respond in an accountable way so that the most vulnerable individuals receive assistance. This is particularly important when considering the need for shelter and health services for women and children. Currently, many are living out in the open, unprotected from physical harm and health risks.
The humanitarian community is prepared to initiate response. The effectiveness of the response greatly depends upon it ensuring quality and accountability and upon the timely response for support from the international community.
Communication and access are difficult in some areas. With predicted rains over the next few days, the losses and scale of devastation are likely to increase.
CWS-P/A Response
CWS-P/A is in close contact with its staff and local partners in the affected areas. It has been closely monitoring the situation and arising needs since last month. CWS-P/A remains actively involved in coordination efforts at the national and local levels.
CWS-P/A is planning a response in three districts: Badin, Khairpur, and Mirpurkhas. Currently, it aims to provide food, NFI, emergency shelter (tents), and mobile health services in all three districts based on the needs identified in the assessments received from the field.