Situation Alert: A state of emergency declared in Sindh Province; rains and floods cause havoc and human casualties in rain-hit areas across Pakistan"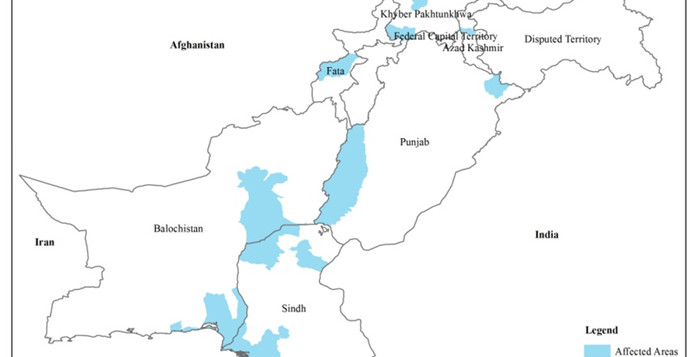 Background:
The monsoon rains are a regular seasonal weather activity throughout the region which is active normally from July to September in Pakistan. However, with its increased intensity and poor coping tendency of the country, it also brings misery to the people of the prone districts of the country. The sixth spell of the 2013 monsoon rains is currently underway in various parts of the country, creating emergency situations in harder-hit areas.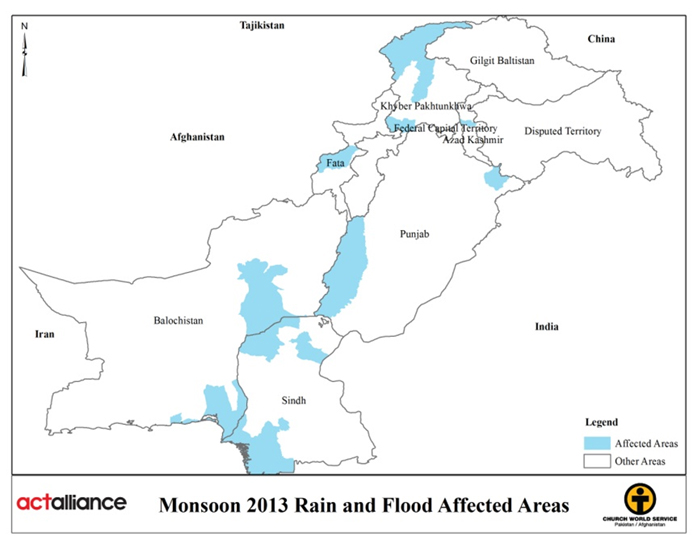 Rains and Floods
At least fifty-one people have been killed and several injured due to torrential rains and floods related incidents in different parts of the country.
The torrential rains played havoc in Jhal Magsi, Hub, Naseerabad, Jaffarabad, Sibi, Turbat, and Bolan districts of Balochistan Province; Karachi, Larkana, Qambar Shahdadkot, Thatta, Sukkur, Hyderabad, and Jacobabad districts of Sindh Province; Sialkot, Dera Ghazi Khan, Rajanpur, and Jampur districts of Punjab Province; Chitral, Charsadda, Nowshera, Swat, and Peshawar districts of Khyber Pakhtunkhwa (KP); and North Waziristan Agency of FATA region.A number of villages in the affected districts have been submerged destroying houses, roads, infrastructure, and crops. Thousands of individuals are reported to have been rendered homeless in the affected districts.
Seven people including three children died in rain and flood-related incidents in Balochistan Province. An emergency was declared after a breach in an embankment in Jhal Magsi District, Balochistan.
Electrocution and similar incidents claimed at least eighteen lives including sixteen lives in Karachi, the capital of Sindh Province. Several other people sustained injuries. Different cities and towns in interior Sindh also received heavy rainfall. Syed Qaim Ali Shah, Chief Minister of Sindh, declared a state of emergency for the province late Saturday night.
At least five people died in rain-related incidents in Punjab, an estimated 100,000 individuals are affected along the Punjab-Balochistan border, and 200,000 acres of crop land are inundated with water. The Kachi Canal which supplies water to Balochistan from Taunsa Barrage, breached causing floodwater to enter Fareed Air Base in Rajanpur. Approximately 35 relief camps were established in the area. Thirty villages were devastated in Pasrur Tehsil, Sialkot District as a seasonal stream swelled; road and rail links were heavily affected.
Torrential rain and flashfloods killed at least seventeen people including five children in Khyber Pakhtunkhwa and the Federally Administered Tribal Areas (FATA). In the most recent incident, four people drowned in gushing floodwaters in North Waziristan Agency. Meanwhile Nowshera was put on high alert as floodwater was quickly heading toward the city after wreaking havoc in other parts of KP.
Thatta District is also among the rain-affected districts. The local authorities are currently collecting information on the losses. The stranded people were moved to safer areas and the government established camps for the affected families where at least 500 families are currently residing.
According to the Pakistan Meteorological Department, more rainfall is expected during the next 24 hours in several parts of the country, including already affected areas of Balochistan and Sindh.
CWS-P/A Response:
CWS-P/A is currently monitoring the situation and is in contact with the local partners to obtain updated information regarding the recent flood emergency situation. CWS-P/A is currently running a mother and child health care center for the communities in Thatta, affected by floods in the recent years' monsoons. The emergency response team is on standby in case the need arises to respond.