Shelter- the primary need for earthquake affected communities in near freezing temperatures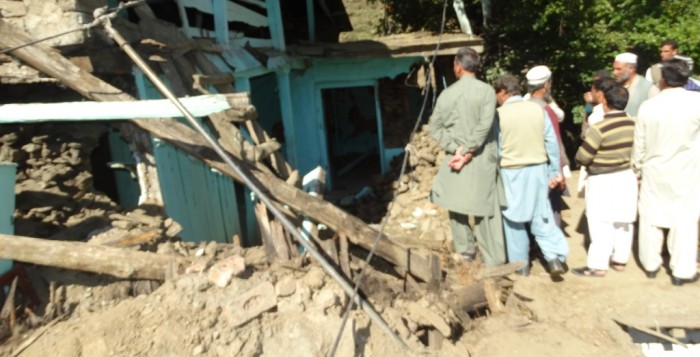 The high intensity earthquake of October 26th has claimed a total of 392 human lives, left 2,492 people injured and has damaged a recorded 114,997 houses and has left as many families living without shelter under the open skies in both Pakistan and Afghanistan. Besides the human losses, the earthquake has also impaired the physical infrastructure such as road, bridges and buildings in the earthquake affected areas in the two countries. The temperature in the north of Pakistan and Afghanistan, being the most affected region, is falling drastically and have started receiving the season's first snowfalls. With no appropriate shelter, the earthquake hit communities are forced to face the harsh winter in compromising conditions, struggling to meet their basic survival requirements.
Access to scattered populations in the affected areas is also proving difficult as most of the roads to these regions have been damaged by the earthquake and landslides, leaving limiting access to heavy trucks and only allowing small 4×4 vehicles. This has been resulting in organizations facing problems in beneficiary identification, selection and distribution activities. Some affected areas, in fact, are reported to be only reachable by foot.
Pakistan:
| | | | |
| --- | --- | --- | --- |
| No. of Casualties | Injured | Houses Damaged | Schools Damaged |
| 280 | 1,982 | 103,268 | 497 |
All the damaged schools in Pakistan are in located in the Khyber-Pakhtunkhwa (KPK) province where alone the earthquake has claimed 232 human lives, has left 1,577 people injured and destroyed a total of  89,102 houses.
A total of 120 aftershocks have been recorded so far since the earthquake first struck on the afternoon og of October 26th. Rain accompanied with snowfall in some isolated areas situated in the north of the KPK province is expected in the coming days. This may intensify the need of proper sheltering against the consequences of weather extremes as the communities in these area are among the most affected by the earthquake. Winterization support is an immediate need of the affected communities here. This need was also reiterated by the Assistant Deputy Commissioner of Shangla district.
Winter kits, shelter, NFIs and health interventions have been identified as the foremost needs of the affected communities in Pakistan.
Afghanistan:
Affected Areas
No. of Casualties
Injured
Houses Damaged
Badakhshan,
Baghlan, Kunar
and Nangarhar
112
510
11,729
Access remains the most significant challenge in providing assistance to the earthquake affected people in Afghanistan. The primary needs of the affected communities in the country have been identified as basic household supplies, blankets, tents, hygiene kits and shelter for those families whose houses have been completely destroyed.
Accountability related issues: Community World Service Asia conducted a Rapid Needs Assessment in Shangla, Swat, Buner and Malakand districts of KPK where information regarding accountability related issues has been also sought from the affected communities. Listed below are some of the identified issues:
There is a need to increase knowledge on standards for using relief package development
Effective coordination and collaboration among relevant stakeholders in early stage is needed
The value of humanitarian principles is not properly comprehended
Joint referral and complaint management system is required
Some households are currently using either plastic sheeting, tarpaulins or substandard tents to protect themselves against cold temperatures, rain, and wind. Many of the emergency shelters or makeshift shelters do not meet SPHERE standards, including size and thermal protection.
Local Organizations are reluctant to achieve or follow requirements.
There is an absence of Complaint registering mechanism in Afghanistan
Response by Community World Service Asia: Community World Service Asia's Emergency Health Response team is currently providing health services through their Mobile Health Unit in District Shangla. The unit is supported by a Mobile Laboratory that diagnoses the affected communities through tests. The unit has so far conducted 1712 consultations in the four union councils of Kuz Kana, Shahpur, Pirkhana and Malak Khel of district Shangla. A total of 803 male and 909 female patients have been checked at the MHU since it has been set up. These include children. In addition, 123 lab tests have also been carried out in these three union councils.
Provision of emergency winterization kits and food as a means of extending the assistance is scheduled to start soon by Community World Service Asia. The current target districts for response are Shangla and Swat while expansion to other districts is subject to the community needs and the availability of funds.
Please follow our live photo update from the earthquake affected areas on our Facebook page at: https://www.facebook.com/communityworldserviceasia/ .
Contacts:
Allan A. Calma
Deputy Director
Disaster Management Program
Email: allan.calma@communityworldservice.asia
Cell: +92 301 5801621
Muhammad Fazal
Associate Director
Emergencies/DRR/Climate Change
Email: fazil.sardar@communitryworldservice.asia
Cell: +92 332 5586134
Nejabat Khan Safi
Associate Director
Disaster Management Program
Email: nejabat.safi@communitryworldservice.asia
Mobile: +93 799 326 628
Palwashay Arbab
Head of Communications
Email: palwashay.arbab@communityworldservice.asia
Ph: +92 42 3586 5338
Sources:
http://www.ndma.gov.pk/new/
http://www.pmd.gov.pk/
http://www.Reliefweb.int
OCHA Afghanistan
IOM Afghanistan