Sharing Capacities, Knowledge, and Experience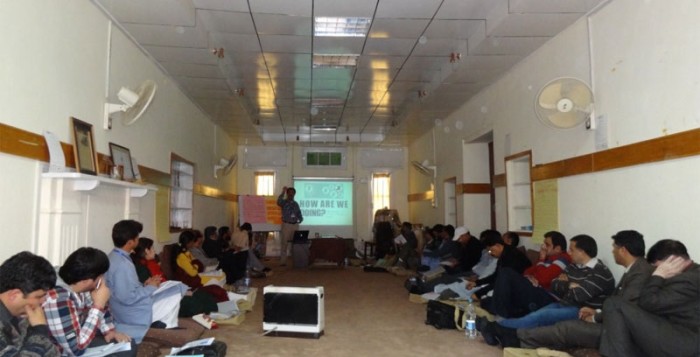 In early March, Church World Service-Pakistan/Afghanistan (CWS-P/A) with the Agency for Technical Cooperation and Development (ACTED) in collaboration with the National Humanitarian Network (NHN) organized 'National Humanitarian Leadership Training'. An assessment conducted by ACTED revealed the need among senior members of national NGOs to benefit from professional development. Twenty-seven senior representatives from local and national humanitarian organizations linked directly or indirectly with disaster response attended the training that aimed at increasing their capacities in leadership within their organization, strategic planning, humanitarian coordination, and strategic response during emergency.
The participants benefited from exchanging best practices and lessons learned during humanitarian response. The inclusion of this exchange while improving humanitarian coordination during an emergency, also leads to a strategic response and ensures accountability to affected communities. More importantly, they learned how to prepare a contingency plan and methods to make the plan sustainable taking into consideration various aspects. These aspects include geographic history of affected area, prioritizing hazards, stakeholder analysis, coordination and collaboration mechanisms to tackle hazards, and using current organizational resources such as human resources and logistics. The participants were also part of activities which focused on conducting quality assessments using tools including Pakresponse.pk, MIRA, and McRAM.
The participants emphasized that the information on organizational development was important for them as it increased their understanding on the significance of having systems in place that are transparent and accountable. The training also focused on how organizations could involve Board of Directors and Executive Directors during decision making and their pre-defined roles and responsibilities.
At the end of the training, participants shared recommendations. Among these were the need for building the capacities of national NGOs as one participant said, "It would be good if future trainings focus on others areas which are necessary for organizational growth and leadership challenges such as financial planning, fund raising, communication skills (written and verbal), logistics and resource mapping."
Other recommendations included the need for early warning systems in all provinces and a contingency plan at the district and provincial levels. They emphasized a need for the depoliticization of disasters and that security sensitive areas in Pakistan must be better catered toward in collaboration with local population and military. The need for the mobility and access of NGOs in security restricted areas was highlighted and the development of a code of conduct for NGOs was stressed.