Seeds Distribution Improves Livelihoods for Farmers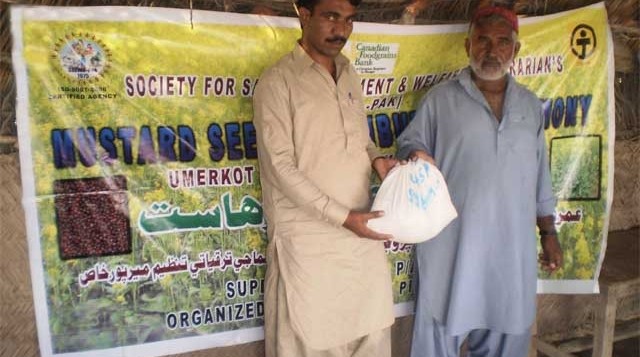 Established seed banks in villages of Umerkot District, Sindh help sustain an increased food supply for farming families. Quality seeds are provided as part of a food security initiative in the frequently drought-affected and water-scarce region. Because of the dedication and effectiveness of farming resource centers and village development groups, farmers deposit seeds in the seed bank for future planting seasons, thus, ultimately increasing the availability of food.
Several important steps take place before the seed bank is functional. CWS-P/A and its implementing partner, Society for Safe Environment and Welfare of Agrarians in Pakistan, implement a comprehensive food security project in Umerkot based on success from an earlier project in Mirpurkhas District. Based on needs assessments and community participation, CWS-P/A provides quality seeds and skills training as well developing farming resource centers and village development groups. By building the capacity of the farmers to store the quality seeds for future use, the project becomes sustainable. Success of this process has emerged over the past three years during which CWS-P/A has initiated seed distribution and promoted seed storage and effective seed management.
Recently, CWS-P/A and its partner distributed 6,600 kilograms of mustard seeds to more than eleven hundred farmers in Umerkot. Total seed distribution is enough to cultivate approximately two thousand two hundred acres of land. The distribution coincides with the crop's ideal planting season which will be harvested in March 2011. At that time, farmers will deposit some of the harvested seeds into the seed bank for the next planting season, thus, starting a cycle for the continuous availability of quality seeds.
Seed distribution and seed banks are part of a larger food security initiative. Other aspects of the project include construction of irrigation ponds, distribution of community gardening kits, and development of self-help groups. Together all aspects of the project improve the food security situation for rural families. Through the project, these families improve the quantity and quality of food intake and also increase their income earning and saving capacities.