Securing Family Nutrition: Promoting Women Entrepreneurship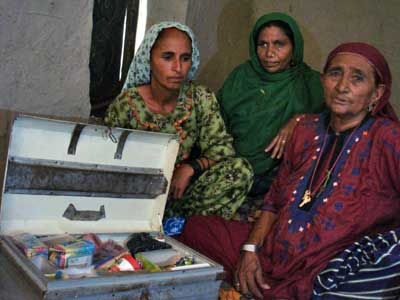 "It has been more than a decade since my husband passed away and I have been running a shop since then," said Jeeva, an eighty year old widow who goes only by her first name. "All my five children are married and after my husband's death through self-encouragement I learned to improve my life."
With Rs. 400 (US $4.71) Jeeva set up a shop selling chips, betel nuts, candies, and soaps. As known, women in parts of the developing world have to depend on their male family members for much of their survival requirements. This is because social and cultural barriers often restrict the mobility of women.  However, women like Jeeva residing in Allah Bux Rind Village, located in Umerkot District are true inspirations. Her family amongst others, from a total of one hundred villages was identified through a needs-based selection process when CWS-P/A's food security team began implementation activities in the districts of Mirpurkhas and Umerkot.
"I acquired the skills of making traditional hair accessories and bed covers from an early age, and now, my daughters-in-law have learned the skill as well. They also know how to make candles, pickles, popcorn, and papadum from the trainings they received in the village along with twenty other women who are all part of the self-help group," said Jeeva.
The food security project activities include the formation of self-help groups which enable women to save money while simultaneously promoting entrepreneurship. With limited access to credit institutions these groups assist in giving loans to group members. Her daughters-in-law have also received training in community and kitchen gardening and vegetable preservation.
"At present, they contribute Rs. 20 each (US $ 0.24) per week to the self-help group," Jeeva shares. "My daughters-in-laws are more skilled than before, and I am happy about this. I have confidence in them that they can expand the shop in the future."
In addition, the family has improved nutrition from community-based gardening which has benefited one thousand community members in selected villages. "We eat garden vegetables, and this is helpful because we are saving money. The materials for making hair accessories and bed covers are expensive. I use the saved money to buy beads, thread, and cords," expressed Jeeva.
Recently, with implementing partner SSEWA-Pak's assistance Jeeva and the women of her household received training in making an earth box. The family members including Jeeva's sons also take care of the family's earth box. "We like the earth box and we have planted bitter gourd, okra, cluster beans and squash. At times the rays from the sun are very strong so we bring the box inside the hut," Jeeva shares.
The earth box has been made with locally available materials including a tub, water filing pipes, mulch cover, fertilizers, soil, and seeds. Minimal water requirement (approximately one liter every fifteen days) is one advantage of the earth box.
Jeeva adds, "All of these activities are beneficial to my family; we eat fresh vegetables, and we are equipped with new skills especially my daughters-in-law. It is important that women learn new skills and stand on their own feet."
Today, Jeeva's daughters-in-law have skills they probably may not have had, and they are pleased with the efforts of the food security team that continues to work to make a difference in the lives of the people residing in Mirpurkhas and Umerkot.