Robina's Story: Having nothing, giving everything to her children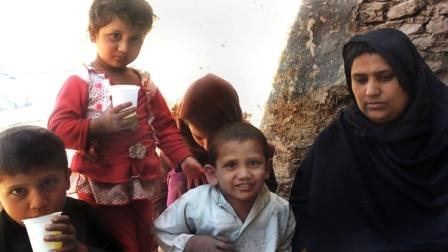 Afghanistan is a difficult place to live for millions of families who experienced decades of war, disasters, and conflict. Millions of men, women, boys, and girls have lost their lives. For those living an impoverished life, unimaginable challenges prevail. A country with many widows, where women struggle to support their children because of a lack of education, skills, mobility, and rights, Afghanistan is a place where circumstances must be replaced with opportunity to ensure healthy lives, sustainable livelihoods, and that prosperity prevails.
Robina, awidowed mother of nine children, shares her story from Charbagh Safa Village,Surkhrood District, Nangarhar Province.
Shortly after her marriage approximately 25 years ago, Robina settled in a refugee camp in Peshawar, Pakistan with her husband. To survive, her husband collected and sold scrap materials. Life, she says, was normal.
Eventually, Robina and her husband returned to Afghanistan and settled in Charbagh Safa Village with their nine children. Her husband earned enough from daily labor and selling scrap materials to meet basic daily expenses.
However, her life drastically changed when her husband died in an accident. Several years ago, his motorcycle collided with a car. He suffered severe injuries, following
which he remained in a coma for a week. Despite her hope that he could miraculously recover, he died.
She was widowed with nine children, five daughters and four sons. Her eldest child, now about twenty years old, is disabled. He studies in the ninth grade but is unable to work any type of daily labor. After her husband's death, the responsibility of earning money fell upon Robina and her fifteen year old daughter.
Robina found on-and-off employment working in other people's houses, where she was either paid in cash or with food. Her daughter followed her father's footsteps and began earning by collecting and selling scraps. She, too, died when she was struck by a car on the roadside as she collected items from the garbage.
After losing her husband and daughter, Robina never could have imagined her next loss. In 2013, an earthquake that struck Nangarhar completely destroyed her house. She and her children now spend days and nights in the yard of her fallen house, with a mere partially standing wall to offer a little shade. The remaining parts of the house are unstable and could fall at any moment. She has no shelter or protection from the inclement weather, the heat or cold, stray or wild animals, or individuals who could harm or exploit her or her children.
After having lost so much, she also faces daily fears as her nine year old daughter now collects and sells scraps to help support the family. She continues to earn some money and food from working in houses. All money is spent on food, and amazingly, she still buys her children notebooks so they can continue their schooling. Her children attend the local government school, which is free, but she must still purchase their required books and stationery. After returning from school, the children wait alone in the yard until Robina returns.
With tears rolling down her face, she describes, "We don't have any mattress, pillow, or blanket. My children and I sleep on an old, destroyed wooden plank bed. It is
the only thing I have. No bathroom; no shelter. I haven't taken a bath for a long time. I do help my children to take baths but without shampoo or soap. Late at night, I bring water from a nearby stream to wash their clothes and help them bathe."
With many questions left unanswered about how she and her children manage basic daily requirements, Robina speaks through her tears, "My nine year old daughter also collects charities, and I work in people's houses so I do not find time. I remain in these dirty clothes, but I do bring water and wash my children's clothes and change them." Some days, the family eats leftover food given as payment for household work; sometimes, they have nothing to eat. If a meal is prepared at home, it is done so by making a small fire out of paper and scraps her daughter brings home.
Robina and other community members benefit from health services that CWS-P/A provides in Charbagh Safa Village. When she or her children are ill, she brings them to the center for free check-ups and medicines.
With no support or assistance following the earthquake this year, their future is bleaker than it has ever been. Yet, with nothing, Robina does whatever she can for her children. Like other earthquake-affected families, their foremost need is shelter. However, to ensure survival, they also need sustainable access to food, water, and a source of livelihood.