Restoring Livelihoods in Afghanistan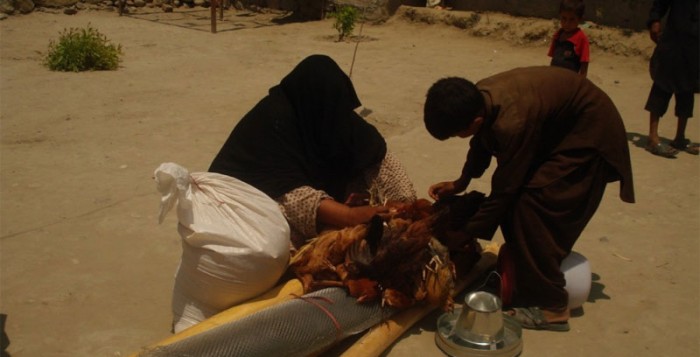 As CWS-P/A continues the implementation of its three-year food security project in Laghman Province, farmers are experiencing the benefits from improved livelihood opportunities following the distribution of agricultural inputs in late 2011. A farmer shared, "At the end of May, I had a harvest of 1,680 kilograms of wheat because of the seeds I received. In the past I would have 1,120 kilograms, and it was not enough for my family." The provision of wheat seeds, urea, and Di-ammonium Phosphate (DAP) benefit farmers in four districts, Dowlatshat, Alingar, Alishang, and Qarghai. In addition to improving the food security and livelihoods of farmers, CWS-P/A is also enabling women, particularly those leading their households, to develop sustainable livelihoods.
Recently, 120 women from these districts received poultry kits. These women either have no land or very small agricultural holdings and also no access to independent income. Therefore, the provision of training and poultry kits provides these women their only source of income generation.
During the period January to April 2012, women received ten days of poultry training. In July, the organization completed the distribution of kits comprising of 17 poultry, 25 kilograms of chicken feed, water and feed bowls, 5 meters of wire mesh, 4 wooden sticks for coop construction, and a vial of Alamycin injection. To ensure that women receive quality production, the golden breed of chicken for the production of eggs was distributed.
The distribution of goats is also part of the intervention. Thus far, 60 women from Dowlatshah District each received three female goats and an offspring, with one male goat to share among five women. An additional 180 women will soon benefit from the distribution of goats in Alingar, Alishang, and Qarghai.
Adila, a trainer with the project, shared that after receiving four days of training, she was able to significantly increase her knowledge of diseases among chickens. These included the training on prevention of the most common diseases such as cocidose and pneumonia among others. Moreover, the women are now aware about the symptoms and appearance of these diseases and possible treatments.
She shared that during the training period women began preparing money boxes. During the training women were encouraged to establish saving groups and some of them had been eager to begin this initiative.
With rising food prices and the increasing cost of living in Afghanistan, CWS-P/A aims to equip poor families with the skills and tools required to achieve food security. Many factors negatively affect food security in Afghanistan; however, these small steps at the community level set the way for development, with positive effects on family income and food security. By empowering women, more changes within the family are expected such as improved nutrition, hygiene practices, and access to education and health services.