Rebuilding Safer Schools in Kohistan and Shangla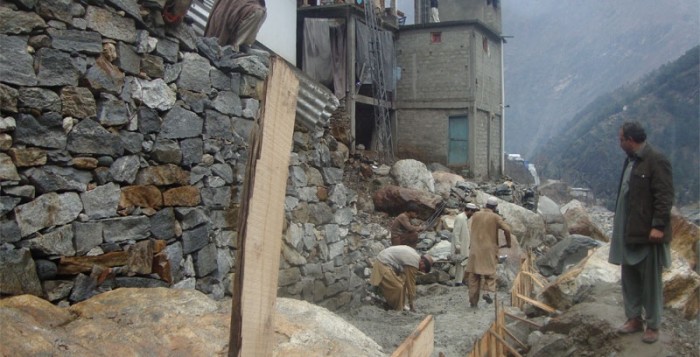 CWS-P/A's recovery initiatives as part of the ACT Appeal for the Pakistan floods are assisting over 200,000 individuals find a state of normalcy. In the aftermath of the country's worst flooding in 2010, CWS-P/A realized the aggregate damage to schools and is currently working to rehabilitate eight schools in the remote districts of Kohistan and Shangla, Khyber Pakhtunkhwa Province. In Kohistan District, a total of 40 primary schools were completely destroyed by floodwaters. Additionally, in Shangla District, 22 primary schools were entirely damaged and as many as 36 schools were partially destroyed.
Groundwork done by CWS-P/A revealed that the schools were an insecure environment for students with reconstruction needs including the removal of damaged walls and flooring. The construction also includes boundary walls and retaining walls for increased protection. Fans, tube lights, latrines, septic tanks, and water supplies will greatly improve the schools.
Not only is CWS-P/A directly assisting the 640 students of these schools but also the overall communities. In these areas, literacy is extremely low and the quality of education is also minimal. With safer, better equipped schools, it is envisioned that more children will begin to access the very fundamental right of education. Similar initiatives were done in 2010-11 by CWS-P/A in Mansehra District. A total of ten schools, which were destroyed in 2005 by the 7.6 magnitude earthquake, were reconstructed benefiting 700 students. It also directly impacted the enrollment rates, with a particular increase in the number of girls.