Raising Awareness Leads to Positive Change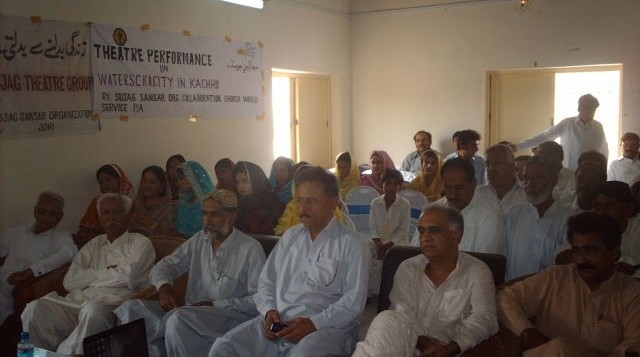 Kachho in Dadu District has been prone to droughts due to an extremely arid climate and suffers from chronic water scarcity. The area has been experiencing severe bouts of drought, resulting in the spread of disease amongst the local people such as tuberculosis, cholera, diarrhea, measles, and malaria.
Many women walk between 3 to 8 kilometers to get clean water for their families while men must often migrate to cities for income opportunities. Finding solutions and addressing the issue of water scarcity is essential for building the capacity of communities to overcome this challenge.
CWS-P/A's program, Promoting Good Governance, along with implementing partner Sujag Sunsar Organization (SSO) organized a theater festival in Johi Kachho, Dadu District. The theatrical performance promoted awareness about the problems of water scarcity. The performance was attended by 150 people, including the District Coordination/ Administration Officer as well as local residents. Among the audience was Allah Dino Shahani, a 65 year old landlord from Village Kenchi Shahani, who shared his knowledge gaining experience publicly with the audience after the performance.
Shahani said, "After watching the Sujag theater performance on water scarcity in my village, I have been impressed by the story. During my youth, Kachho would transform into a lush green area after a particularly heavy downpour." Then in an emotionally charged tone he added, "Now we are facing long spells of droughts and hundreds of households that previously led prosperous lives have been thrown in abject poverty. People were previously unaware of the fact that chopping tress was one of the main causes of drought, as depicted in the theater performance. Regrettably I, myself, sold hundreds of my own trees to meet my family's day-to-day expenses.  I feel guilty and have made up my mind not to sell my trees in the future after watching the performance."
He also urged his neighbors and friends to stop cutting trees and instead plant saplings in large numbers. Deforestation is indeed one of the main reasons for the water shortage. It raises the temperature of the surrounding area resulting in increased evaporation. The soil and water sources dry up as the water table lowers. Many inhabitants of Kachho have fled their homes as drought also brings higher incidence of disease as well as death among livestock.
Shahani's commitment may just be a single step but cumulatively he and other residents can make a difference. Small steps in the right direction will benefit generations to come.