Providing Livelihoods to Women in Afghanistan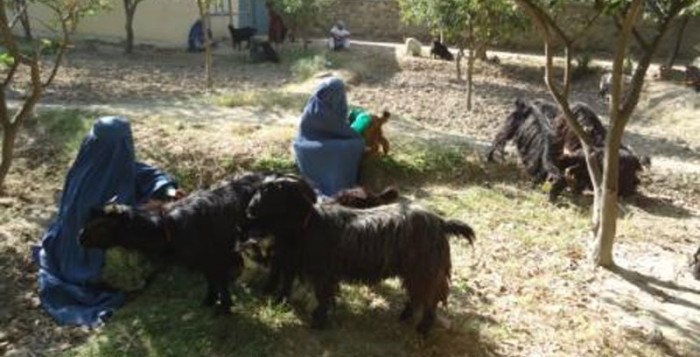 Laghman Province, Afghanistan is home to approximately 424,000 people, a majority of whom belong to families struggling to overcome poverty.[1] The extreme summer temperatures, drought, and militant activity continue to hinder the much needed stability and social and economic development that could ensure the survival of the most vulnerable families. CWS-P/A works with communities to improve access to education, health services, and food security, with a particular emphasis on ensuring women's access to these basic rights.
In mid-November, CWS-P/A assisted 60 women-headed households in Laghman Province through the provision of livestock as a means to initiate income earning opportunities. The distribution is part of a larger project that aims to improve food security in the province while empowering women to become decision makers and to contribute to the development of livelihoods. In total this year, 300 women across four districts benefited from the distribution which includes three goats and three offspring for each household. The households also benefit from forty-eight bucks that are shared on a rotational basis for reproduction and have been trained on the maintenance on animals. To ensure sustainability of the intervention, an offspring produced is allocated to a pre-selected women-headed household that has been agreed through consultation of the local shura (religious council), community members, implementing partner, and authorities. The participating women further contribute to sustainability through their commitment toward shared responsibility for caring for the bucks. The assisted community members are encouraged to continue the breeding activities beyond the project duration.
During the year, an additional 120 women-headed households benefited from the distribution of poultry kits. The kits included17 poultry, 25 kilograms of chicken feed, water and feed bowls, wire, and sticks among other items. Together, these distributions help families with income-generation opportunities that are direly needed in Laghman Province.
To support the women to maintain the livestock as a long-term livelihood asset, CWS-P/A provided training and veterinary kits to sixty basic veterinary workers. Each targeted district benefits from a field unit where veterinary services such as treatment and vaccination for animals are offered. By ensuring regular visits and vaccinations, the livestock will remain healthier, free from disease, and able to produce healthier offspring. The production level of milk and other products will also remain optimal, thus, helping to ensure food security and income earning opportunities for these vulnerable families.