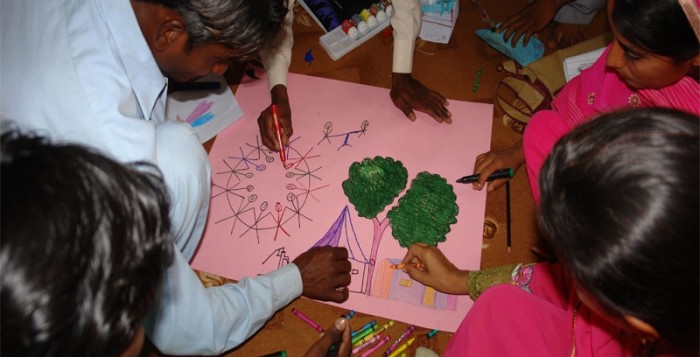 In early April, a three-day orientation workshop on peace education was held in Mirpurkhas District, Sindh. Twenty-seven teachers from schools in the province joined the workshop to learn about the peace education manual. CWS-P/A's manual focuses on child rights, human rights, conflict, and other similar topics which aim to promote peace.
Samina Imdad, a teacher, was among the participants at the workshop and in a follow-up discussion shared that workbooks are being utilized by the children in her class. She added that her students complete activities in the book by working in groups. She also shared that the class has completed two topics without facing any challenges.
Since the publication of CWS-P/A's manuals and workbooks, 126 schools in Sindh have made this part of their curriculum. In 2012, 20 new schools began using the manuals.
In June, the teachers and students will prepare role-plays, speeches, cultural performances, and other creative displays on peace to spread awareness among their peers and community members. CWS-P/A plans the peace festival with the aim of increasing awareness and to encourage students to play an active role in their communities.
In August 2013, a team from CWS-P/A will travel to the schools to meet with teachers who recently attended the orientation workshop. The follow-up visit gives the teachers an opportunity to discuss their successes or challenges in implementing peace education. The documented impact and assessment of implementation will further help CWS-P/A address remaining needs or to incorporate valuable feedback and ideas from the teachers and students for future training activities.