Progressing towards #GoodHealth&Wellbeing in Afghanistan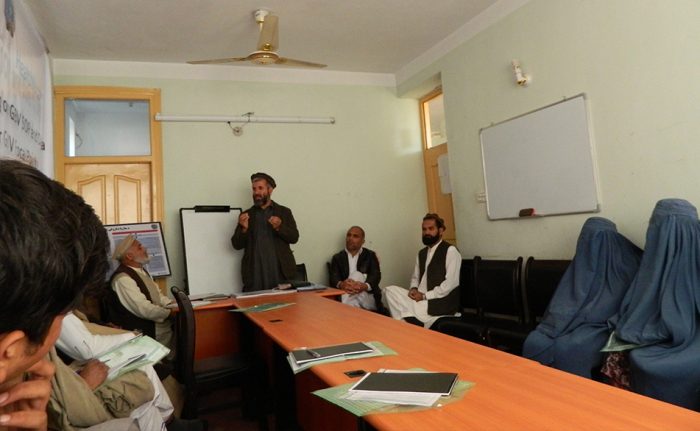 Under its' Maternal Newborn and Child Health (MNCH) project in Afghanistan, Community World Service Asia conducted Community-Based Health Care (CBHC) trainings in across six of its sub health centers in the Badiulabad, Salingar, Shamuram, Ghazi Abad, Nawdamorra, and Surkhakan villages of Laghman province.  The trainings took place between 15 November to 9 December, 2017 and were attended by 23 men and 23 women Community Health Workers (CHW) in the target areas.
The main objective of these trainings was to train CHWs to provide quality primary health care services that would lower mortality and morbidity rates in the catchment areas. This goal was divided into three main targets:
To enhance the target community's access to primary health care services
To enhance mothers' access to MNCH service es, such as safe deliveries
To enhance the community's knowledge about disease prevention
A Female Community Health (FCH) Supervisor and male nurse from each sub health center facilitated the training in their respective health facilities. They training focused on teaching staff about:
Common disease, definition, signs and symptoms
Causes of common diseases
Diagnosis and treatment of common diseases
Rational prescription
Additionally, the CBHC curriculum was shared with the participants which covered various health topics regarding preventive and curative care. Description, diagnosis, treatment and medicines for common diseases have been explained in the curriculum.  Moreover, it includes prescription of various medicines and their side effects.
Participants in the training were taught on how to conduct health education at community level. In order to improve their prescription writing skills, they were trained on dosage and side effects of each medicine. The training enabled the CHWs to prescribe medicines based on the CBHC curriculum discussed with them during the training sessions.
Since Laghman province is an endemic area for malaria prevalence, in the last week of the training, a two-day session on malaria was coordinated with Health Net-Transcultural Psychosocial Organization (HN-TPO) who have extensive experience on Community Based Management of Malaria (CBMM). The session enabled the CHWs to properly diagnose, treat and refer malaria cases. During the CBMM session, the health workers were coached and were given time to practice their skills during the sessions; this included collecting blood samples, making slides, testing strips, and prescribing medicines to patients. Specific guidance on the Rapid Diagnostic test and how to prescribe a malaria positive patient using the Arthesoinate Combine Therapy (ACT) was also given. These skills learnt at the trainings were essential for the community health workers in providing high quality health services to vulnerable communities as they visit house after house.