Product Development Training in Ghulam Mohammad Soorjo Village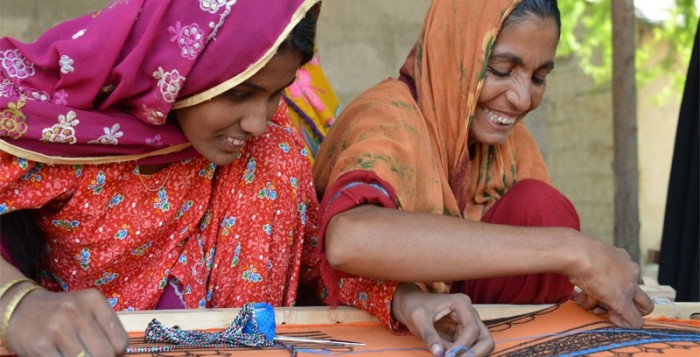 After one year of preparatory work in building the capacities of women in handicraft development and promoting women's economic activities­, 60 women from Ghulam Mohammad Soorjo Village are currently receiving training from a Karachi-based designer. The objective of this activity is to help the women from the rural areas of Thatta to produce products which are marketable in the wider urban market of Karachi. With products that can be marketed in major cities like Karachi, the women will be able to increase the demand for their products and ultimately develop a sustainable source of increased income. This is one of many activities currently ongoing in Thatta in the project, Alleviating Poverty through Women's Empowerment and Livelihood's Development with a Disaster Resilient Approach through the funding of Christian Aid.
The designer prepared unique embroidery patterns for the women to produce within their vocational center. The women are currently working on mastering the embroidery patterns. These patterns will be used to create buttons, earrings, and handbags depending on the women's skill level. Once the embroidery patterns meet market quality, the women will learn finishing techniques to finalize their products. These products will be sold in Karachi through market linkages initially established by the designer.
Production supervisors were selected within the village to oversee the production of each product. The women selected for this position show commitment to the initiative and superior embroidery skills. Additionally, one marketing agent was selected at the community level to act as a liaison between the village women and potential buyers. This woman, while not the best at embroidery, is active in her community and has mobility to travel. The production supervisors and marketing agent are currently undergoing further capacity building in order to become independent leaders of this production process for the long term.
With the help of the designer, the women engaged in this product development training will, for the first time in their lives, be able to access a market beyond their villages, selling products which are contemporary and of market quality. By linking the women to the market and giving them the skills to produce products which are currently in demand, these women will be able to create sustainable small businesses from their homes in rural Thatta. Increased income in the hands of these women can be used to meet their families' needs such as better nutrition, education, and health care.