Peace Fest: Acting for Peaceful Change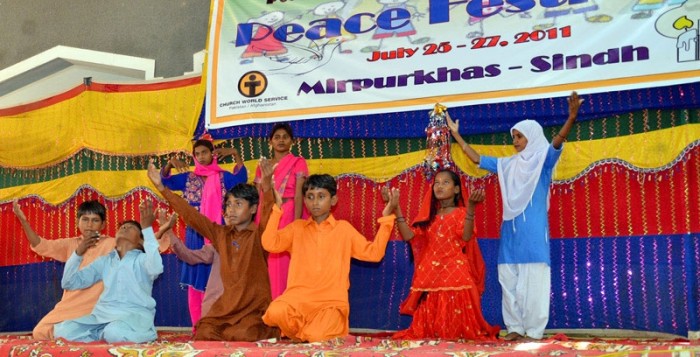 Six hundred community members in Sindh attended a festival to celebrate what children in Mirpurkhas and Hyderabad have been learning through CWS-P/A's Peace Education curriculum. Four implementing partners, Society for Safe Environment & Welfare of Agrarians in Pakistan (SSEWA-PAK), Primary Education Project Hyderabad (PEP-Hyderabad), Kachhi Community Development Association (KCDA), and Parkari Community Development Program (PCDP), took part in the festival, with children from various schools performing speeches, tableaus, and role play to convey a message of peace to the community.
The students displayed talent and creativity as well as knowledge about the course, portraying the importance of peace from domestic to national levels. Twelve year old Khanpal Dass has been studying peace education for one year. For him, the most valuable lesson has been the importance of peaceful resolution of conflict. He says that he teaches his younger brother about peace and will teach his sisters when they are old enough. In his speech, Khanal Dass said, "God has blessed our country with amazing gifts, but peace in Pakistan has become a dream that it seems impossible to fulfill." However, he aims to fulfill this dream by educating others and hopes that his future audiences are as encouraging and receptive as the audience at the festival.
Ten year old Shugna, who also presented a speech, agreed about the importance of peace education. She has been studying peace education for two years and wishes that other schools also had the curriculum. Shugna teaches her friends from these schools as well as her brother about peace and says that peace education will benefit everyone as they learn to resolve differences peacefully. She says that she and her friends hope to lead by example, teaching others by acting peacefully themselves.
The conclusion of the festival marked the need to highlight the theme of peace to other cities across Pakistan where stability and harmony are not priorities on the agenda.