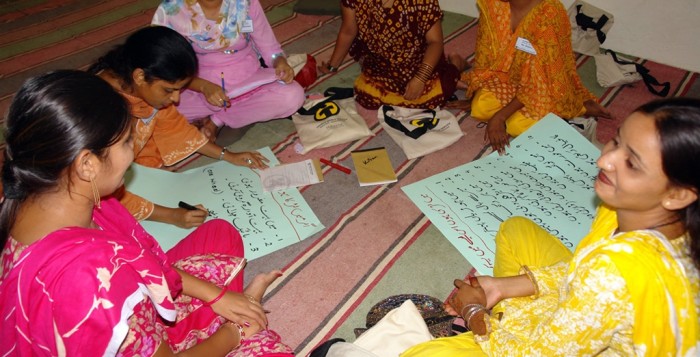 Social injustice, gender inequality, and weak structures all contribute to the burden of poverty and further hinder the realization of human rights and social justice by marginalized groups.
In the context of both Pakistan and Afghanistan, CWS-P/A believes that the strengthening of civil society provides a platform for elevating the lives and voices of the poor and marginalized.
CWS-P/A efforts in peace-building, gender equality, and democracy promotion all aim to support civil society to empower those with the least power with knowledge and tools to advocate for their own needs, rights, and lives.
Strengthening Civil Society
With approximately 45,000 civil society organizations in Pakistan and 1,500 in Afghanistan, there is a growing need to strengthen existing capacities to further benefit the development of Afghan and Pakistani communities. And based on its long history of experience in developing the capacity of civil society, CWS-P/A aims to not only develop the capacities of individuals, but also to strengthen the organizational, management, and governance structures of local organizations.
CWS-P/A works to institutionalize capacity development and knowledge building in order to help organizations make necessary step-change, to adjust organizational postures to political structures, and to strengthen advocacy and lobbying to influence policy and local government decision-making processes.
As CWS-P/A works to bring about change, civil society organizations are assisted in organizational development through a variety of approaches including training, knowledge building, and even some creative methodologies like interactive theatre. Projects focus on the overall development of human capacities and the promotion of good governance.
Additionally, civil society organizations are provided with more intense personalized support and holistic approaches to develop the capacity of internal structures. These approaches enhance the ability of organizations to engage with local governments and other stakeholders to bring about development and change for local communities.
Strengthening Democracy: Mainstreaming the Marginalized
CWS-P/A always focuses its work on the most marginalized groups within society. Programs not only address social development and economic issues but also seek to enhance the rights of communities. Projects with inter-related components center on public education, census observation, coalition building, and lobbying.
CWS-P/A believes that the key to strengthening democratic structures is to empower the democratic rights of marginalized and minority groups. Through its efforts in Pakistan, CWS-P/A aims to increase the participation of marginalized groups in the mainstream political process and to build a strong coalition of civil society actors that demand more democratic governance.
CWS-P/A works to ensure meaningful participation of marginalized groups in political processes and debates as this allows for a better understanding of their rights. In addition, the increase in the availability of accurate census data and figures provide a basis for better policy-making and increases public confidence in electoral processes.
In 2009, CWS-P/A's coalition building efforts in Pakistan encouraged the state authority to participate in open discussions with civil society groups to improve the census by keeping the basic democratic rights of minority groups in view. As a result of its efforts, CWS-P/A has begun to help open a new political space.
Prioritizing Peace Education
As Afghanistan and Pakistan have experienced prolonged periods of political struggle and destabilizing conflict and violence, CWS-P/A encourages children and youth to contribute positively to society. By working through education, CWS-P/A encourages models of democracy, peace, tolerance, gender equality, and communal harmony.
Projects include activities for promoting peace through education and workshops, which create a platform for participatory discussions on topics including peaceful conflict resolution, human rights, and child rights. Peace curriculum has also been developed and introduced in more than 50 schools in Sindh.
Peace education also focuses on educating teachers and providing them with new skills for their crucial role in developing values of peace and tolerance amongst children.Through all its efforts, CWS-P/A works to develop the inherent capacity of students as the future leaders of their communities and countries.