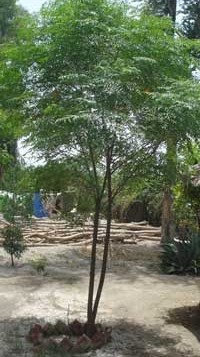 Pakistan is a country rich with natural resources. From mountain tops to deserts, hundreds of species of plants and animals can be found. Some are endemic to Pakistan or the sub-continent while others are common in many world regions. Of all the species, none seems to be as amazing as the neem tree.
Neem (Azadirachta indica) is a tree in the mahogany family Meliaceae, and it is one of two species in the genus Azadirachta. The tree is native to Pakistan, India, Bangladesh, Myanmar, Malaysia, and parts of the African continent. It is known by many names and in the West as Indian Lilac. Surviving on the minutest amount of water, neem thrives in the arid and often drought-affected regions. It is a fast growing tree that reaches a height of 15-20 meters and in rare cases up to 40 meters.
All parts of the neem tree can be used for beneficial purposes ranging from mosquito repellant to ointment for skin diseases. The tree is well-known for its medicinal purposes; it has antibacterial, antifungal, and antiviral qualities. The first person credited with discovering these components is the Pakistani scientist, Dr. Salimuzzaman Siddiqui. Initially in 1942, he extracted three compounds from neem oil which proved to have the aforementioned qualities. Since then, Dr. Siddiqui and many other scientists have extracted more compounds from other parts of the neem tree, including its roots, flowers, leaves, and bark.
CWS-P/A's partner, SSEWA-Pak, established the Neem Research Center Rattanabad in 1986. They have manufactured several neem products including hair oil, skin ointments, soap, and mosquito repellent oil. Neem also has proven benefits for diabetic patients because it possesses qualities to help maintain blood sugar level. Neem seed grain is produced for this purpose at the center.
One other product is Bio Neem Compost, which is a spray and fertilizer for crops. SSEWA-Pak started producing this compost in 2003. CWS-P/A uses Bio Neem Compost in its Mirpurkhas and Umerkot food security projects. CWS-P/A provided the compost to farmers as an alternative to the chemical fertilizers they were accustomed to using. Bio Neem Compost is environment-friendly because no chemicals are used in its production. Aside from being environment-friendly, Bio Neem Compost helps increase land fertility and retains moisture for longer periods of time, thus, making it suitable for the drought-affected region.
Recently, CWS-P/A supported SSEWA-Pak in planting 35,000 indigenous trees in one day. It was a celebration of SSEWA-Pak's thirty-five years of service, but more significantly, it was an effort to promote positive action for environment conservation. Of the trees planted, more than 17,000 of them were neem. It was predominately selected for its natural resilience in the area as well as the extra benefits from this fast-growing tree.