More Food, Water and Women's Empowerment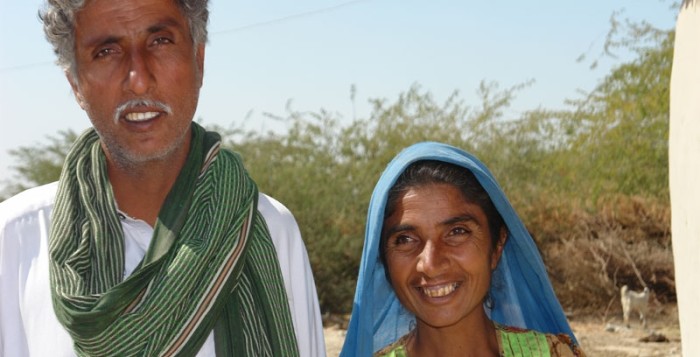 CWS-P/A has been working in the food-insecure of districts of Mirpurkhas and Umerkot to help families gain better access to food, water, and livelihood opportunities. The food security projects continue to aim to increase the capacity of communities so that their members can overcome the various hurdles they face. Remarkably, families share how project components assist them not just with more food on the table but with more and improved economic options.
Located in the tail-end of a water distribution system which originates in Northern Pakistan, the district of Mirpurkhas is an area that has been heavily hit with the decreasing availability of irrigation water, and Babar Kolhi, a small village in the district, is no exception.
Mohammad Musa and his family, who reside in Babar Kolhi, have struggled as they have observed their access to necessary irrigation water diminish. Despite owning ten acres of land, they were only able to cultivate two, which severely cut into their monthly income. This water shortage, coupled with the increasing price of farming inputs, left few options for Musa, and as a result, both he and his wife, Hamida, began working four or five hours a day as wage laborers in order to make up for the lost income.
The decreasing availability of water has proven to be a hurdle that many rural farmers cannot overcome. Many families, like Musa's, struggle to bring in the same yields that they previously had. With costs increasing and average yields decreasing, many are forced to leave home in search of alternative income opportunities.
The construction of irrigation ponds, establishment of community organizations, and facilitation of various trainings and workshops give community members the opportunity to strengthen their livelihoods and gain financial independence.
For Musa, the construction of a local irrigation pond has proven to be an indispensible aspect of the project. With the new irrigation pond, water is saved and shared equally within the community while allowing Musa to cultivate all ten acres of his land. Alongside his increased access to water, Musa also received seeds from the newly established local seed bank. "The seeds are of great quality, you cannot even buy them in the market," shares Musa. When asked of the impacts of these new acquired resources he replied, "They have changed everything. I was unable to farm without them, and now I am once again able to do what I know."
With her husband back in the fields, Hamida attended community workshops on kitchen gardening and income saving. Her participation in the newly formed community self-help group has proved invaluable. "[The group] has given me the opportunity to meet with other women in the community and discuss the issues that we are facing." She continues, "I have come to depend on my community, and they have supported me." Through her community's self-help group, Hamida received a loan amounting to 2,000 rupees (USD 2.33) which enabled her to purchase a goat which she intends to raise and sell in order to purchase more and generate additional income.
With increased access to the resources, Musa has seen the benefits of participation in CWS-P/A's food security project. Regular irrigation water, quality seeds, and access to credit have given Musa the opportunity to return to his land and his family. These resources have not only provided his family with the ability to increase their income but also to recapture hope as they look ahead.
Written by Carolyn Townend