Model Dairy Farm Nominated for an Award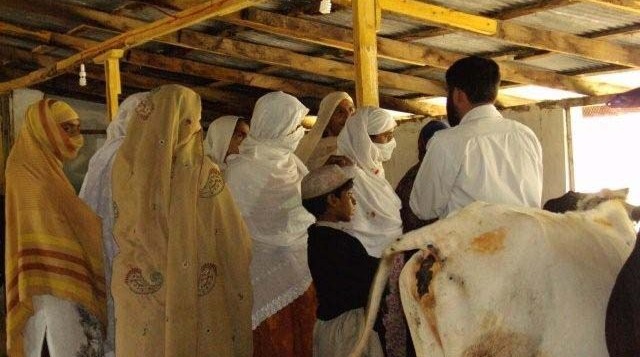 CWS-P/A continues to work with its implementing partner, Hashoo Foundation, to support livelihoods of the earthquake survivors living in Balakot Tehsil (NWFP). Expanded Dairy Development Project is an extension of CWS-P/A's first livelihood project in Mansehra District that benefited 1,363 female-headed households with livestock and veterinary services. The destruction caused by the 2005 South Asian Earthquake created the dire need for rebuilding livelihoods. Consequently, in the region completely destroyed by the earthquake, CWS-P/A initiated its livelihood project.
In its extension phase, the project benefits 260 female-headed households that had received livestock during the first phase of the project. A model dairy farm established in Boli Balakot serves to build the local capacities in dairy product development and management. In July 2009, the Japanese Government conducted a survey in the region; Balakot's Model Dairy Farm has been selected among the top ten nominees for best model dairy farm in the Asian region.
Thus far, the project has successfully trained 337 beneficiaries, an additional 50 community members, and 7 Veterinary Extension Workers who expressed an interest to join the project for improving their knowledge. In total, 32 training sessions have been completed on topics including animal housing and management, breeding, livestock health and feed, dairy processing, and development and marketing techniques. CWS-P/A and Hashoo Foundation were able to impart this education in three union councils, Hangrai, Ghanool, and Karnool of in Balakot.
The project also mobilized the local population and communities into an organized group for dairy and livestock management. Each group consists of 20-25 members; the group selects its own president and secretary. So far, 25 groups were formed.
Local women have shown a keen interest in the various activities, and they use their acquired skills efficiently for their livestock. Since these women began participating in the project, a profound impact on their standard of living occurred. In early July, VEWs completed their vaccination drive for the livestock of the beneficiaries. Exceeding expectations, VEWs also assisted the non-project communities and provided vaccination services to their animals. The extensive level of intervention in the community raised awareness about the importance of animal vaccination; as a result, the local population is keener to seek these services.
The overall objective of this project is the establishment of a functioning community demonstration, training, and dairy processing center. CWS-P/A's endeavour is a step forward in its commitment for supporting the lives of the earthquake survivors. The Expanded Dairy Development Project keeps the promise that CWS-P/A through its work continues to play a pivotal role in the earthquake affected region.
The Expanded Dairy Development Project is supported by Evangelischer Entwicklungsdienst (EED).
 
Written by Saadia Haq