Mobile Health Services Meet Needs in Sindh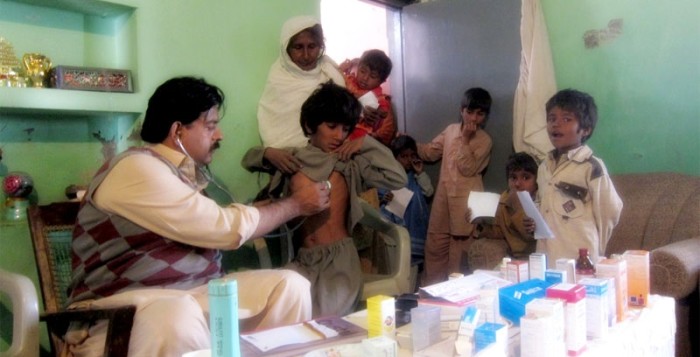 As part of its response to the 2011 floods in Sindh, CWS-P/A operates eight mobile health units (MHUs) in four districts which include Mirpurkhas, Umerkot, Thatta, and Badin. This life-saving service provides rural communities access to quality healthcare that is otherwise unavailable or inaccessible for them. An average of 120 patients receives consultations each day through the MHUs.
CWS-P/A strongly believes that providing quality healthcare goes beyond consultations and the provision of free medicines. It also entails maximizing the opportunity to educate communities on topics that promote good health such as hygiene, causes of diseases, and pre and postnatal care. By educating the communities, CWS-P/A is playing a vital role in reducing vulnerability to disease during the current post-disaster time. However, the knowledge will remain with them forever, encouraging better health practices for the longer term.
Every MHU has dedicated male and female health staff. This enables CWS-P/A to ensure that men, women, and children access the facilities. This is particularly vital for women who due to cultural practices often do not visit male doctors. The National Disaster Management Authority reported that an estimated 120,000 pregnant women were among the affected during this year's floods. Services like CWS-P/A's pre and postnatal care can mean the difference between survival or mortality of mother and child. Therefore, it ensures that quality healthcare not only reaches the communities most in need but also delivers services in a dignified way.
The MHU services will continue into 2012 as CWS-P/A identifies longer term health needs in rural Sindh. CWS-P/A is committed to saving lives and helping communities recover in a sustainable way that includes improved access to quality healthcare.