Livestock Distribution Helps Farming Families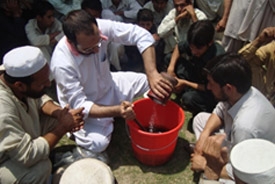 The sixth and final distribution of three hundred milking cows and calves in Shangla District, Khyber Pakhtunkhwa Province, successfully concluded in late July. As part of CWS-P/A's flood rehabilitation initiatives and through a well carried out selection process based on needs, three hundred families from the farm community in the union councils of Damori, Pirkhana, Shahpur, Kuzkana, Ranial, and Opal now benefit from improved livelihood opportunities.
The distribution provides families with better nutrition through the in-take of dairy products. In addition to help lower the total rearing cost to farming families, the organization conducted one-day training sessions in each union council which addressed improvements in animal feed through practical demonstrations on the importance of urea-molasses and curative measures. Farmers were trained on the use of a feeding time-table. They also received detailed instructions on the use of molasses as a feed enhancer, which should be used during periods of scarce quality feed and when the availability of clean and fresh water is within the reach of animals. The farming households also benefited from a fodder and toolkit package containing cotton seed cake, wheat bran, salt, milking jar, watering bucket, feeding mix tub, cleaning spade, and sand pan.
From the union council of Kuzkana, farmer Mian Gul shared, "As farmers, we never tried to improve the quality of feeding and understand the actual needs of animals. Through this knowledge and skill, we must now reduce losses and get the maximum benefits from our animals."