Knowledge Sharing and Mainstreaming Important Principles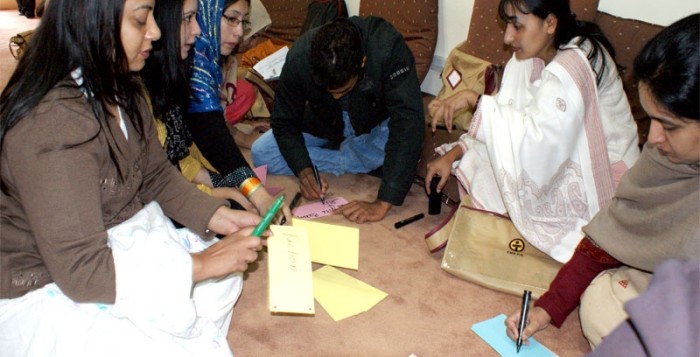 Operating in an environment of conflict and increasing disasters, CWS-P/A continues to mainstream Local Capacities for Peace (LCP) and the principles of Do No Harm into its organizational and programmatic interventions. Additionally, CWS-P/A believes that the application of the concepts of LCP and Do No Harm principles places communities first during decision-making processes and as assistance is delivered through diverse projects.
In the LCP regional network, CWS-P/A continues to contribute by sharing learning among network members while also benefiting from assessment activities conducted during the year. Moreover, CWS-P/A through translated materials on LCP has helped local partners to gain an understanding of the concepts of LCP tools and Do No Harm approaches. Recently, the organization held an orientation and application workshop with twenty-four participants representing seventeen NGOs.
Sher Baz, a participant who had previously attended an orientation session in 2008, shared that after his first training session he conducted an in-house three days training session with eighteen colleagues. Aiming to show how Do No Harm principles work, he shared an example where a religious conflict was resolved when the community was mobilized to opt for a neutral resolution. Furthermore, he acknowledged the positive role of female community members in their ability to resolve the issue while bringing and maintaining peace.
CWS-P/A understands the value of working with communities according to international standards and principles of accountability, which include concepts of non-discrimination. For this reason, the recent workshop combined learning of LCP and Sphere standards in order to give a strengthened understanding to the participants of the impacts they can make while working with communities. The participants welcomed the inclusion of Sphere, sharing positive feedback. Sher Baz also commented on the benefits of learning about Sphere minimum standards and the importance of the Code of Conduct for the International Red Cross/Red Crescent Movement and NGOs in Disaster Relief. He shared his intention to spread his new knowledge among his colleagues.
By highlighting concepts such as LCP, Do No Harm, and Sphere, CWS-P/A ensures that it provides the knowledge required to implement aid delivery strategies that benefit, without causing harm to, the assisted communities. These are also essential for developing interaction with communities that is based on mutual respect, tolerance, and ownership.