It's Elementary: Enhancing Scientific Education in Afghanistan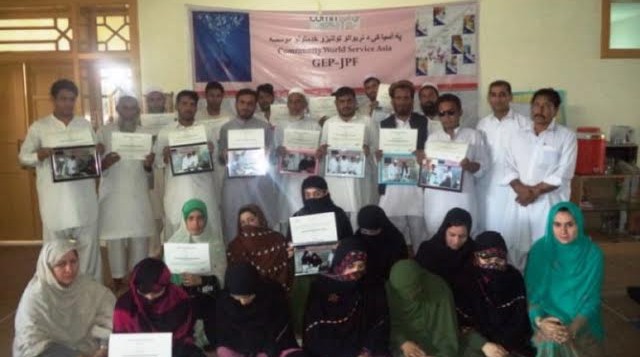 Across Afghanistan, communities continue to recover from three decades of conflict. Education, particularly for girls, has been severely damaged and disrupted, with a lack of safe schools, difficulty in travelling and a shortage of qualified teachers. Poverty and cultural norms further contribute to the serious obstacles to education for both girls and boys, and the reconstruction of the country.
Community World Service Asia is committed to working with local authorities in Afghanistan and enabling them to provide quality education for students. We promote awareness and understanding among communities about the importance of education, especially for girls, with an emphasis on a culturally sensitive approach. We provide extra-curricular educational activities for girls, such as civic education camps, in order to address the gaps in their education system and empower them to play an active role in their communities. The construction of safe play areas and the provision of sports equipment uphold the right of children to play, and are a vital part of our efforts to build the confidence of children.
In addition, we provide extensive and in-depth training to teachers, supporting them to create engaging, child-centered classrooms and conduct meaningful lessons which will equip their students to learn effectively. As part of this initiative, we have been holding subject-specific trainings for teachers from eight schools in Laghman and Nangarhar provinces on a variety of courses identified as priorities by the vast majority of surveyed teachers, including Biology, Chemistry, Mathematics and General Sciences. The workshops develop the knowledge of participants on these subjects as well as exploring learning strategies and teaching techniques.
A five-day training was held in June for twenty five teachers in the Behsood district of Nangarhar, on the subject of Chemistry. The workshop resulted in a 446% increase in the technical knowledge of teachers, as measured by pre- and post- test scores on the subject matter.
Ab. Malik, a teacher at Malika Suraya Girls High School, shared the impact that the training had on her abilities and confidence to teach Chemistry, "Most of these things were really new to me and had no idea how to do experiments. But after attending this training, I feel that I have become an expert and trained teacher who can provide the students with effective chemistry classes."
Zalmay Halimi Hazrat, the District Education Director for the Behsood District, visited the workshop, and was extremely positive about its value and relevance for teachers in his area. He expressed his views saying, "If other organizations conduct similar trainings for our teachers that are just as effective, we would very soon be able to observe the positive change and improved quality of education within our school that we hope to see. This is the first time I am seeing the entire wall of our training hall completely full of charts. This indicates that throughout the training days you all have worked hard and have had lots of practical activities."