International Women's Day: Creating Linkages for a Brighter Future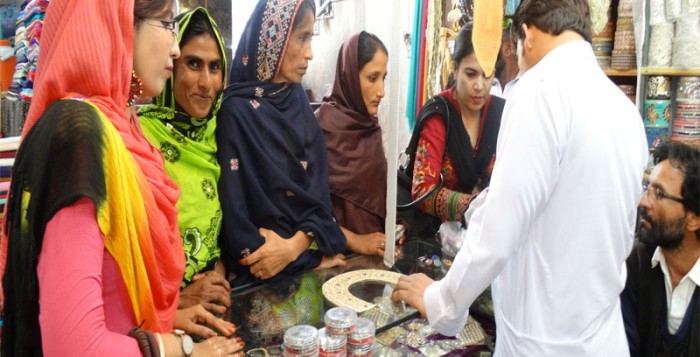 Visiting a new city for the first time can be quite overwhelming, especially when you have spent your entire life in a rural village in Pakistan. When everything around you is new, approaching it can be overwhelming and slightly terrifying at the same time. However, on February 6, 2014 five women from the village Ghulam Mohammad Soorjo reached Karachi filled with a lot of excitement, anticipation and motivation. These women are trainees of a vocational center run by CWS-P/A in their village and were brought to Karachi to get some market exposure and find potential buyers for their hand-embroidered products. They were overcome with fear as they approached an escalator for the first time, and felt a little out of place outside the posh shopping center. Despite all odds they faced the city for the first time and managed to accomplish their goal.
"At first I was wondering, what we would do with these embroidered laces, but today I have observed how these will be used in developing different products. These laces are used to produce handmade goods. Materials used in embroidery are not costly but skills and fine finishing add more value to the product. I am determined that I will be able to generate a minimum amount of PKR. 5000 per month from these skills which I have acquired from CWS-P/A," said an excited Haseena.
Haseena got the opportunity to visit the markets in Karachi city for the very first time on February, 6, 2014, along with four other trainees from her village. The aim was to develop linkages with potential buyers for income generation. To reduce poverty and promote gender equality through economic empowerment, Church World Service-Pakistan/Afghanistan (CWS-P/A) with the generous support of Christian Aid is implementing second phase of the project "Alleviating Poverty through Women's Empowerment and Livelihoods Development with a Disaster Resilient Approach" in District Thatta, Sindh. More than sixty women have benefited from the adult literacy and skill development trainings so far. After completing the training on product development with facilitation from a Karachi based designer, market linkages are being created to produce goods according to contemporary trends. "I have enjoyed a lot and learned many things; I have a better idea of what market needs are. Earlier we were confused about how we would be utilizing this embroidery skill training but now we know it can be used in designing bangles, purses, earrings and many other things. We are hopeful that we will generate income by utilizing our skills," mentioned Saima Mallah, when we spoke to her. She is one of four production supervisors for the trainees.
With assistance from CWS-P/A staff and the designer, this exposure visit provided an opportunity to these women to explore market trends and observe different varieties of embroideries, quality and usage to produce different products. A preliminary meeting regarding product development was also conducted with a shop owner to discuss the possibility of producing products from the materials which has already been developed by the trainees. "We are now skilled enough to deliver products with best quality to earn a regular income," a happy Begum Jan tells us.
The village people and the families of these women fully support this endeavor. Muharram Samoon, President of the village organization shared his views with us, "I am very happy with the way CWS-P/A is striving for sustainable livelihood. I am hopeful once the market linkages are made, more productive orders will be placed by the suppliers. It is then the women's responsibility to produce quality work for income generation as well as to meet the needs of the buyers for building a long term relationship."