Increasing output by investing in farming, capacities and the community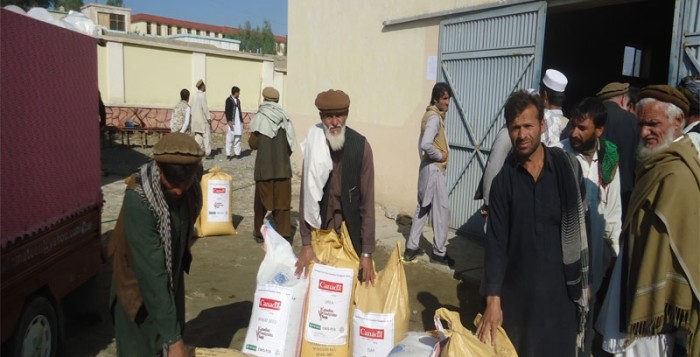 Agricultural, livestock and road rehabilitation activities for rural communities in Laghman province, Afghanistan, continued to be carried out from September through November. They were conducted for communities residing in districts of Qarghai, Alingar, Dowlat Shah, and Alishang. Two hundred farmers were trained in two batches about fruit and vegetable processing. The trainings focused on building the capacities of farmers in harvesting, sorting, storage, and marketing and they were encouraged to use fruits and vegetables in the preparation of tomato paste, pickles, and jam. Fifty farmers also received training about the establishment of orchards and nurseries, integrated pest management, and irrigation among others.
Recently 297 farmers were selected to receive agricultural packages containing wheat seeds (50 kilograms per bag), urea (50 kilograms per bag), and DAP fertilizer (50 kilograms per bag). The selection of 297 farmers enables farming communities to continue the process of passing benefits to other families as the amounts collected each year from the 50% cost per package is utilized to distributed the same to other families.
Subsequently, forty female-led households who previously received livestock were trained for animal feed preparation and animal treatment, deworming, and vaccination activities continued in each veterinary clinic across the four districts in Laghman Province. As part of the project's cash for work activities, 12 kilometers of road rehabilitation is currently underway. The road locations have been selected in each district and benefit over 4,500 families.
As the Laghman Food Security Project continues until early 2014, various sustainable initiatives have been made possible through the financial support of the Canadian Foodgrains Bank through the Presbyterian World Service and Development. These activities involve significant community participation to encourage sustainability with the aim to alleviate poverty and improve access to food security and essential nutrition.