In Afghanistan: Health Care That Makes a Difference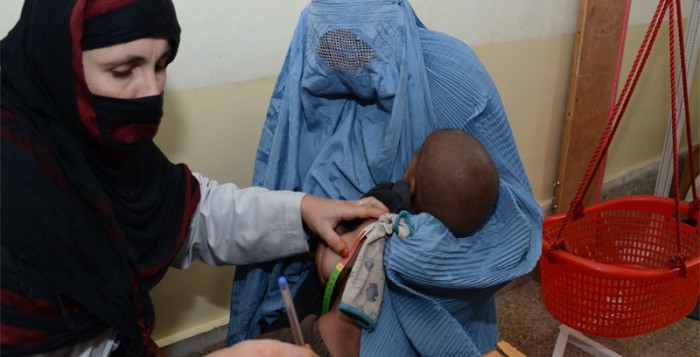 CWS-P/A initiated its mother, neonatal, and child health (MNCH) project in Laghman Province in December 2011. Recently, two surveys were conducted which helped assess the quantitative and qualitative impact the community experienced since the initiative began. A catchment area of annual census (CAAC) survey and a household (HH) survey were conducted to gauge the impact of maternal and child health care interventions. The CAAC survey focused on impacts related to maternal mortality and neonatal mortality rates whereas the HH survey in six health facilities across four districts aimed to assess feedback from community members about the provision of maternal and child health services. As many as 3,560 households were part of the CAAC survey and a total of 591 households participated in the HH survey. The figures and data demonstrate the success of the health interventions including health education awareness to curb mortality rates and promote health and well-being among many poor families in Afghanistan.
More specifically, the household survey revealed that community members benefiting from the MNCH services increased from 44% to 81% since the commencement of the project. A significant change was also noted in the couple year protection (CYP) rates which increased from 5% to 10% with couples opting for child spacing and family planning methods.
Additionally, 77% of community members from the household survey shared that pregnant women within their families utilized the MNCH services. An increase from 33% to 77% was noted during the past eighteen months in the number of pregnant women benefiting from antenatal care. Moreover, 79% of households considered vaccination important for both children and women. These successes have been achieved through regular education sessions conducted by the staff at the health facilities and health volunteers.
At the same time, maternal mortality rates recorded through the CAAC survey decreased from 15 per 1,000 to 11 per 1,000. The reduction in neonatal mortality was recorded at 32 per 1,000 live births from 60 per 1,000 live births.
In Sangar, Masamoot, and Kachoor, CWS-P/A constructed three delivery rooms. Construction continues for three additional delivery rooms located in Khasmoond, Chapdarya, and Paytag. Upon completion, all six delivery rooms will be handed over to the Laghman Provincial Public Health Directorate to help further lower mortality rates.
The survey results were shared with the Ministry of Public Health (MOPH) and its Health Management Information System (HMIS) department. The data is being used for health related research, training, and policy purposes.