Improving Education Standards in Afghanistan by making Teaching Fun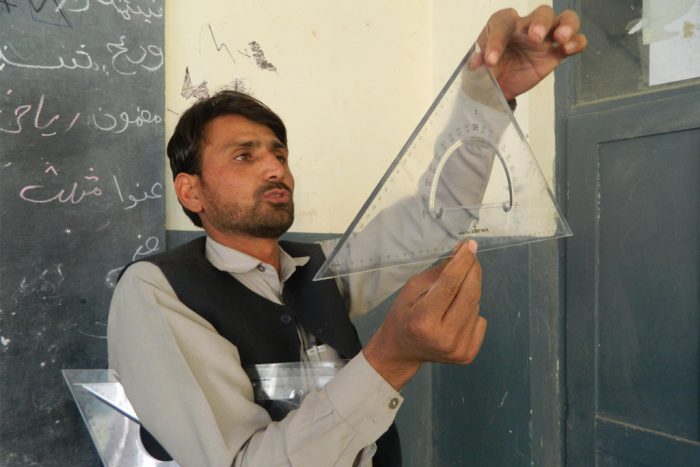 Honestly, neither the students nor was I actually enjoying the lessons,
confessed 3
rd
grade Mathematics teacher Inayatullah. Teaching at the Zangue Girls High School in Behsood District of Nangarhar province, Afghanistan, for the past four years, Inayatullah has a students capacity of 77 in each of his two classes.
In these four years of his teaching,  Inayatullah had been using traditional teaching methods that he had learned during his academic years. Rather than engaging his students in the classroom, he taught them through lectures and theory based learning methods which led the students to lose interest in the subject and topics taught. This was damaging the quality of the school's education standards and was leading to absenteeism. Inayatullah had not been introduced to new and interactive teaching methods then so he went with what he knew only.  With time, Inayatullah observed that many students in his class could not even identify [alphabet] letters easily and were not able to combine letter to spell or read our words properly. This was very worrisome for him as a teacher as well as for the institute.
In March 2016, Inayatullah got the opportunity to participate in a five-day teachers training conducted by Community World Service Asia. The training was conducted for school teachers to learn about new teaching methodologies to be able to establish child friendly classroom environments and to motivate students towards learning. It focused on enhancing teachers' capacities on being more interactive in their teaching styles and finding ways of actively involving students in daily classroom activities. The teachers were trained on development and utilization of various low and no cost teaching methods and teaching aid materials. Moreover, the teachers were encouraged to form student groups in their classes, assign various tasks to each group and conduct group work exercises with them to ensure students involvement in classroom activities. This will bring into practise the learning by doing theory. As a result of this training, the teachers adopted different teaching methods and started using colorful and visually appealing materials during classroom learning sessions making the lessons easily understandable and interesting for their students.
One activity introduced to the teachers in the training was the "Morning Meetings". This, among other exercises, was something new and interesting for Inayatullah. Teachers were encouraged to use the Morning Meeting activity to help students and teachers interact with each other through questions and answers. A simple question like "What is your favourite fruit?" would spark up conversations regarding likes and dislikes of students and teachers.
I liked the Morning Meeting activity with the students the most. It not only helps establish a trusting and friendly relationship between the teachers and students but it also improves students' confidence in sharing ideas, asking questions, and discussing issues with each other.
According to Inayatullah, prior to the training, teachers mostly used the lecture method or reading from the book, which was not only hard for students to understand but they also lost attention of students very easily during class.
As i started using the many creative teaching methods i had learnt in the training, not only did my students start engaging and participating more in class activities but it also made the learning easier for students. They responded to new lessons much more and much better now.
Inayatullah now forms four to five groups of students in his classroom and assign tasks to each group to carry out during the day. By carrying their responsibilities, they are involved in classroom activities, feel a sense of ownership and are confident.
Inayatullah regularly develops teaching plans which he follows on a daily, weekly, monthly, and yearly basis now. This helps him set targets and utilizes various activities he has learnt in each of his lesson. He has also started using low-cost or free teaching materials to help students learn. The various activities and games he now uses have created a child-friendly and a nurturing environment in the classroom. This productive learning space is encouraging students to become more and more participative classroom activities, and shows the improving students' interest in school and learning activities. Inayatullah further expressed,
The biggest change I have observed is the improved learning ability of the students and decreased number of absentees in my classroom. The students can easily read and write now and are learning better. The quality and accuracy of their homework has improved by more than 50% in just six months. This is a tremendous achievement for both the students and me.