Improving Access to Food Security and Livelihoods in Badin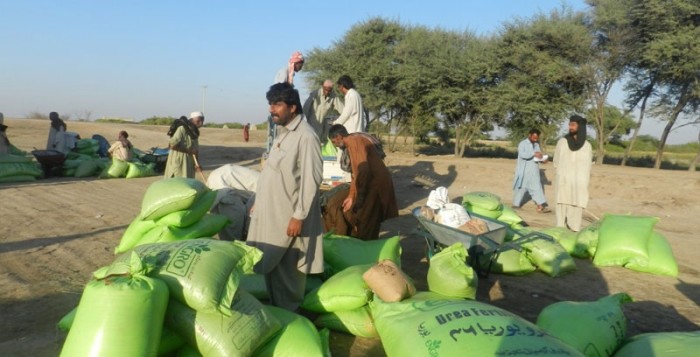 In Sindh, rains during the 2011 monsoon season affected over ten million people, more than half of whom were women, according to the National Disaster Management Authority (NDMA). The wide-scale destruction of standing crops, agricultural lands, and infrastructure devastated farming communities across the province. The district of Badin was and remains among those with critical food security needs. According to a ranking report in April 2012, Badin was among the three most severely affected districts, with the food security, nutrition, and health status in a critical state.
CWS-P/A supports flood-affected communities recover livelihoods, with a focus on improving access to food security. In December 2012, CWS-P/A organized market days for 650 individuals from three union councils in Badin. The market days are part of a voucher scheme for the distribution of agricultural inputs. It enables farmers to select items such as farming tools, fertilizers, and seeds from local vendors through the redemption of vouchers worth Rs. 15,000. Prior to the market days, the farmers receive orientation on how the voucher scheme works and also training on integrated crop management.
The farmers are selected through a process based on community participation which begins with a door-to-door survey of affected families and the formation of village organizations (VO) through a social mobilization process in each village. The VO along with CWS-P/A's social mobilizers and agricultural officer identify the most vulnerable families to participate in the voucher scheme. Due to the traditional family structure in Sindh, a majority of the selected individuals were male heads of households; however, the criteria for selection gives female heads of households, disabled persons, elderly persons, and other vulnerable groups priority. Through this process and criteria, CWS-P/A is able to assist most if not all women who are heads of households in the worst-affected areas and who are in need of assistance. Of the assisted families in Badin, close to 10% were women-led households.
The individuals who participated in the voucher scheme were able to select which items they required to restart their agriculture based livelihoods. The factor of choice ensures that the participants receive what they need and increases their ownership over their recovery and livelihood. Overall, the activity helps to restore agriculture at the wider community level while improving access to food security and income earning opportunities for the most vulnerable families.