Home
Newsroom
Stories
Implementing the Sendai Framework for Resilience and Action Planning in Afghanistan
Implementing the Sendai Framework for Resilience and Action Planning in Afghanistan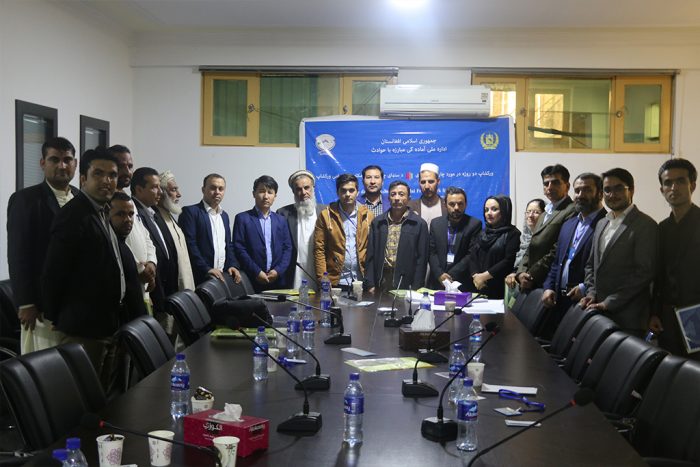 A two-day workshop on the Sendai Framework for Action (SFA), an international legal framework for implementing disaster risk reduction (DRR) projects, was conducted for stakeholders of the humanitarian and disaster management community in Kabul, Afghanistan this November. The workshop was conducted by Community World Service Asia and supported by the Japan Platform (JFP) and the Afghanistan National Disaster Management Authority (ANDMA). The prime objective of the workshop was to orient participants on the SFA, enhance their understanding in order to use it more effectively and to identify its gaps while working in the Afghanistan context.
A total of sixty humanitarian actors and policy makers representing the Ministry of Rural Rehabilitation and Development, the Ministry of Refugees and Repatriation, Ministry of Energy and Water (MEW), Ministry of Agriculture, Irrigation and Livestock MAIL, UN Agencies (UN-WFP, UN-IOM) , Afghanistan National Disaster Management Authority (ANDMA), INGOs, and NGOs, participated in this learning event.
Afghanistan being a signatory to the SFA, the ANDMA took an active part in the workshop and their Director of International Relations, Mohammad Omar Mohammadi, also welcomed the audience and expressed his gratitude towards Community World Service Asia for arranging this workshop. He believed that this workshop would really enhance ANDMA staff's level of understanding on the framework and would further enable them to improve the implementation of DRR activities and policies at a national level.
Emmeline Mae Managbanag, Deputy Director at Community World Service Asia (CWSA) in Afghanistan briefed the participants on CWSA's DRR initiatives, coordination, and partnership with ANDMA since 2008. She further conveyed that the organization has been active in DRR through a number of projects. This was followed by a presentation by Ezzatullah Siddiqui, advisor to the ANDMA. He introduced the workshop overview and explained Afghanistan's overall disaster management system and its current international cooperation on DRR status.
The workshop included both presentations on SFA and practical group activities on its various priorities and outcomes. Participants knowledge on key SFA areas such as its history dating back to the Hyogo Framework for Action, it's scope and purpose, expected outcomes, targets, priorities for action, guidance principles and stakeholder roles was developed and in some cases further enhanced.
Participants representing UN agencies and iMMA shared their DRR policies and projects and its impact in Afghanistan so that other participants, specially ANDMA, could learn from their experiences and would subsequently help them in preparing their national report on the Sendai Framework for Action. In a group activity participants explored gap analyses of the DRR work in Afghanistan. They specifically focused on the areas of the country that needed improved national level DRR initiatives. Through the group exercise, participants learnt how to identify and address  gaps on Capacity, Implementation, Systems, resourcing and coordination mechanism in DRR work in the country.
This group work allowed participants to share their experiences on improvement in the field in Afghanistan. Participants learnt a lot from each other. The workshop facilitator advised participants on how to use SFA for DRR. He discussed the application areas of SFA for each organization, main actions points to use for SFA and the support required for implementation of the framework.
Participants' knowledge and understanding was assessed through an evaluation test post training.  The average pre-test score was 30% while the post-test score was 75%. This reveals a 45% improvement in participants' understanding on the Sendai Framework for Action workshop.
Participants, including ANDMA key personnel, agreed to use Sendai Framework for Action and showed their commitment towards its successful implementation.