Hoping to Return to a Place Called Home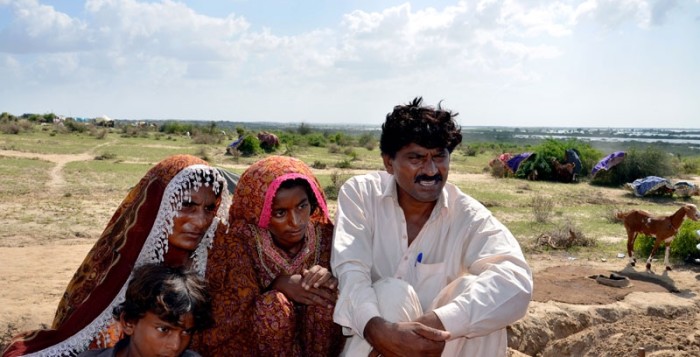 MIRPURKHAS DISTRICT, SINDH, PAKISTAN: Among 1.8 million people displaced by floodwaters are farmer Jam Joseph, his wife Mebhai, and their four children. The family belongs to Satra Water Village, five kilometers away from the higher ground where the displaced family has been residing for the past two weeks. Satra Water Village which remains submerged by floodwaters is a place where 200 houses once stood. The family was able to evacuate on a boat to higher ground as water approached the village. Pointing in the direction leading to the village, Jam said, "Everything was going well, and we were saving. Everything has been lost now. Three acres of my crops have been submerged in water and the wheat we saved for home consumption. I grew chili, wheat, and cotton on the land that belonged to my father." Jam was quick to share, "Water never before reached this village even our ancestors said the same to us."
In Mirpurkhas, owing to long spells of drought and labeled among the severely food insecure districts in Pakistan, Jam and his wife both worry about a shortage of food threatening their family. "We do not have crops; we saved sixty maunds (2,400 kilograms) of wheat for food and that has all gone away." Jam and his family benefit from CWS-P/A's food security project in the district which has helped families gain improved access to resources including seeds, water, and empowering women like his wife to set up small-scale businesses for more than four years. "I earned 200 rupees (USD 2.22) per week through the shop I operated and miss running it. All members of our self-help group happily met, sat down, and talked. Now, everything is lost even the register we kept for records." Sitting besides his wife, Jam said, "My landownership documents are also lost."
Like most flood survivors, Jam carried his national identity card in his pocket always. "This is all that I have. I made a trip back to our village and could not see any of our belongings. There is still about three or four feet of water, and I pray our belongings are still there." Jam described the trip he took with eight other community members to visit their village. The journey was made on a jute bed which was overturned and tied atop air-tube tires.
"We can only work on the land once it is cleared of the water. We need help until we can go back to our normal life," said Jam. For Jam, his wife, and others displaced from Satra Water Village, food concerns and lost documents are far from being the only worry. The community worries about the risk of living under the open skies. "In the evening, snakes and scorpions come here so we have raised the ground where our children sleep. The snakes and scorpions get trapped in the low-level passage."
Jam has developed a skin rash and said, "Never before have I had this. It is because of the unclean water that surrounds us. We have to live here for not less than six months until we can go back. This is going to be difficult because there is too much water. We will have to rebuild everything."
During a needs assessment, CWS-P/A's field team visited Jam and other displaced community members from Satra Water Village. CWS-P/A aims to assist thousands of affected families meet basic food needs over the next two months. Particularly in Umerkot and Mirpurkhas, CWS-P/A plans to provide almost 600 metric tons of food to 2,000 families. Food packages contain culturally preferred items such as pulses, wheat flour, iodized salt, baby food (Cerelac), and cooking oil in quantities sufficient to meet daily calorie, fat, and protein intake needs for the average size family and in accordance with Sphere standards.