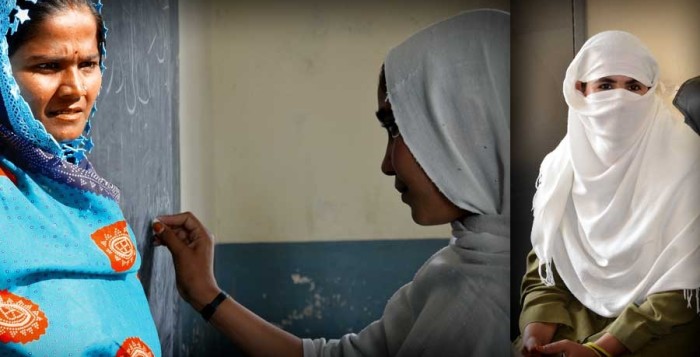 "As the headmistress, I constantly motivate students to keep striving to learn more. When girls graduate, I encourage them to gain a higher education. This will make them well-educated and increase the participation of women in Afghan society," shares Liluma, a headmistress at Qarghai Girls High School in Laghman Province. A World Bank report published in 2010 revealed that the 2009 labor participation rate for females in Afghanistan was 33.10%. In addition to low female participation, years of war have pushed the country into deep economic hardship with weak infrastructure and governance.
"Many women in Afghanistan still have problems in pursuing a career outside their home." Liluma adds, "Afghan women have always been a vulnerable group of the society, who faced ups and downs throughout history, especially in the past 18 years. In the present government and after the founding of the Afghan constitution, many people were positive about the future of Afghan women, but it seems that these optimisms are fading away now."
The headmistress is among those working to reestablish the educational system and also among the fortunate women in Afghanistan whose family supported her as she sought a diploma in science. Her childhood dream of becoming a headmistress came true. "I like doing what I do because I am a woman and improving the education of girls will promote the society and economy of Afghanistan." This is because the headmistress believes that the participation of women is essential while both women and men have equal roles within society. She cites the roles within the family as an example that forms the basis of a well-functioning structure. Consequently, headmistress Liluma appeals for equality of all human beings.
"A partial improvement in the conditions of women is noticed but is limited to the cities, and still millions of women face the worst violence in most parts of the country, especially in remote areas." The headmistress' next statement accurately identifies an important area of concern, "Many of them do not even have adequate awareness about their rights."
While it is crucial that both men and women receive awareness about their rights, there should be sufficient resources allocated to help them access these rights. This change allows for men and women to make better and informed choices that simultaneously work to eradicate gender inequalities and poverty. Moreover, the change needed to improve the lives of women is to educate and empower them. Resounding studies show that women earning an income have more decision-making influence within the household. This has translated into healthier food and education opportunities for their children.
The reality is still that in the developing world in 2010, 72 million children of primary school age were not in school and 57% of them were girls. In the aftermath of years of war in Afghanistan, women like Liluma, who have committed to bring positive change by encouraging enrollment and motivating women to acquire new skills, are making a positive difference for social change, particularly for girls. Helping communities open dialogue and increase awareness of important issues, such as gender equality, is the starting point for positive change at the local, community level. At the Qarghai Girls High School, which is among target schools for Church World Service-Pakistan/Afghanistan's girls' education project, there has been an increase of 150 newly enrolled girls.
However, at the same time more work needs to be done by individuals, the government, and civil society organizations, especially in the struggle to eliminate gender inequality. The answer stems from placing the well-being of all human beings at the core of development. By guaranteeing access to rights through the commitment and implementation of policies that uphold them, rural communities in particular will experience a more upward track toward eliminating poverty, hunger, and significantly improving conditions for women. Afghanistan still remains one of the poorest countries in the world, and in the post war years, development must address these prevailing social and economic inequalities.
On this International Women's Day, women all over have a lot to celebrate about and particularly Afghan women. Their dedication, bravery, and efforts to promote women within their country remain a source of inspiration for others.