Health Services Bring Families Hope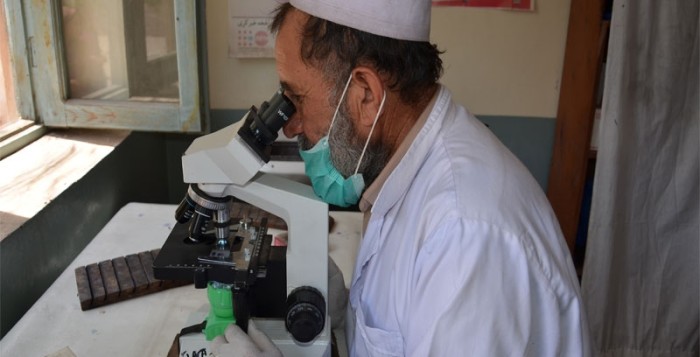 From Sangar Valley in Alingar District, Afghanistan, Grana has had three miscarriages owing to pregnancy complications. Now in her seventh pregnancy she said, "I heard from some of the community members about the clinic and told my husband that I wanted to go to the clinic. I felt the need to meet the midwife for my pregnancy. My husband agreed, and I travelled about two kilometers to meet the clinic staff." With contentment she added, "The female health worker welcomed me, and after my physical examination she registered me in the clinic for antenatal care. I even have a card for medical records."
Currently, CWS-P/A's maternal health project in Afghanistan benefits approximately 2,500 women. In the far-flung and remote valley, mother and child health care is a significant need as Grana mentioned, "I am getting regular antenatal care services from the midwife every month. The complimentary medicines and the education sessions have improved my life. By regularly attending the health education sessions and cooking demonstration session, I have increased my capacity and know how food must be balanced."
Recent reports show that approximately 360 women are receiving antenatal care and 340 women benefited from postnatal care services. Women from the community participated in sixteen training sessions on nutrition, balanced meals and cooking demonstrations, and family planning, while the project's medical staff including nurses and midwives received training on reproductive health.
For more than a decade, CWS-P/A's health centers under its Nangarhar Laghman Health Project (NLHP) have worked to improve not just the lives of women but also their children who benefit from the improvement in their mother's health and well-being. CWS-P/A also established delivery rooms in four health centers under NLHP and twelve male and female community health workers received trainings.
Through the organization's long-term health services, 24,715 children below age five have been screened for malnutrition and 1,345 cases of malaria were reported. The centers through an expanded system continue to focus on child spacing, mother and child care, health education, dental care, mental health care, and treating communicable diseases among others.
"I do not have an income and get food from relatives and friends," said Shukriya from Shamshapur located in Surkrhod District. Shukriya's husband, Mohammad Ashraf receives treatment for tuberculosis at CWS-P/A's basic health center (BHC) in the village. It was through the BHC that he was tested for tuberculosis. In May, Sukriya shared that her husband was in his first month of treatment and that the duration of the treatment is nine months.
While Mohammad Ashraf has been unfit for work, Shukriya's life has been far from easy. She shared, "I have tuberculosis prevention tablets and take them once a week from the BHC." A female doctor at the BHC has been treating Sukriya for toxoplasmosis and regularly treats approximately twenty-five patients per day for other sicknesses. For Sukriya life presents a gloomy picture every day as she copes with taking care of her two year old daughter and an ailing husband. CWS-P/A's six health centers are offering tuberculosis treatment and 103 community members who tested positive are currently receiving treatment.
In Masamoot and Sangar, the organization has newly established sub health centers which offer comprehensive maternal health care. Additionally, four existing health facilities under the NLHP have continued to provide maternal and child health care. Together these centers work to improve mother and child health along with the availability of quality health services, health education, and awareness.