Food Security in Jacobabad District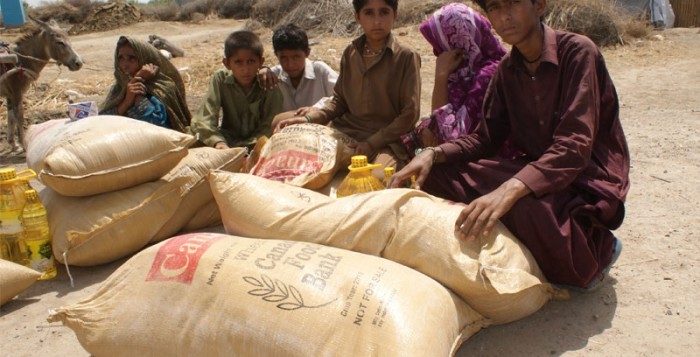 In Jacobabad District, Sindh, CWS-P/A is currently assisting families affected by the 2012 monsoon floods by addressing their food security needs. The initiative aims to help farmers regain their agricultural livelihoods through the provision of quality rice seeds, which is complemented by immediate food security for the farming families through four months of food packages distribution.
In the union councils of Miranpur and Allahabad, 4,000 families will benefit from this initiative. Every food package contains wheat flour (90 kilograms), cooking oil (7 liters), pulses (12 kilograms), iodized salt (800 grams), and 10 match boxes. These amounts are based on Sphere standards and meet the nutrition requirements of 2,100 kilo calories per person per day for a family of 6.5 members in terms of fats, proteins, and calories for one month.
During mid-June, the first distribution reached families and included the distribution of 20 kilograms of rice seeds to each household. This helped farmers in advance of the sowing season; training on integrated crop management techniques was also provided to enhance the farmers' capacity and knowledge. Rice Seeds distribution was followed by first round of food package distribution among the same families.
Strategically planned to help families ahead of the fasting (Ramadan) month, a second distribution has also been completed in the first week of July. The remaining two food package distributions will take place in August and September. These distributions will help meet the family's food security needs through the harvesting season.
CWS-P/A appreciates the generous contributions from the Canadian Foodgrains Bank that is helping poor families to overcome food security in Jacobabad District. In the same union councils, CWS-P/A is also operating mobile health services which include health education sessions, consultations, treatments, and laboratory testing. This intervention is made possible with financial assistance from World Renew and continues until August.