Food Assistance Saves Family that Had Nothing to Eat for Days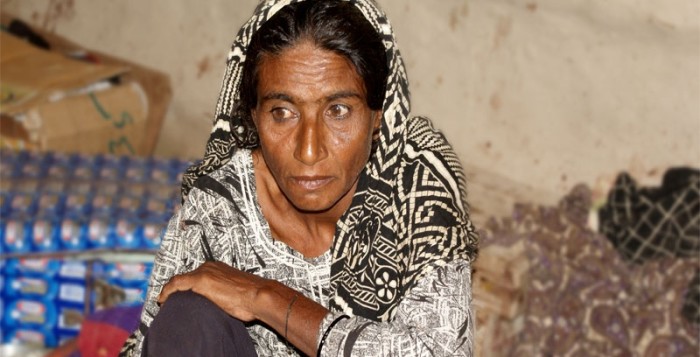 The people residing in a medium-sized village called Haji Abdullah Mir Bahr situated in one of the most severely affected areas of Gharo Union Council, Thatta lost their livelihoods during the August 2013 rains and floods. Homes and belongings were damaged, but the most destructive impact was the loss of crops, which provided income and a source of food, and a nearby fishing farm where many residents worked. Food stocks were also destroyed, leaving the residents without food to meet their immediate needs.
CWS-P/A identified this village for food assistance during a needs assessment of the area. The entire village faced a critical condition; however, one of the most vulnerable families was led by a middle-aged widow. When the team visited her home, Rahelan, her sister, and two daughters had not eaten anything for two days.
Rahelan shared that after her husband died she took his place at the fish farm in order to support her family. By working on the fish farm, she earned enough to provide two meals a day for her family. Her sister helped out by caring for Rahelan's children but, therefore, could not work outside of the home. When the floods destroyed her livelihood, she had no access to income or food. Not knowing what else to do, she approached the owner of the fish farm as well as neighbors and other relatives for assistance. No one helped her.
Without money or access to food, they were passing their days with nothing to eat. Their condition was very fragile when the assessment team visited them. Even prior to the floods, the living condition was very poor and Rahelan faced many challenges. Her elder daughter, 12, is severely physically and mentally challenged and requires round the clock assistance and care. Medical care is also inaccessible for this family, with the closest facility about 40 minutes away.
CWS-P/A, with financial assistance from Christian Aid, provided Rahelan and 127 other families in the village with one-month food packages. Almost half of this 300 household village met the criteria for food assistance, an indication of the level of widespread food insecurity of the area. Distribution took place the next day so finally after three days of no food, Rahelan, her sister, and her daughters were able to eat their first meal.
Expressing her gratitude, Rahelan said, "I have no other source to earn food for my family. This package will help us to meet our food needs for at least 30 to 40 days. By that time, hopefully, I will be able to get a new livelihood source."
Villages like Haji Abdullah Mir Bahr experience significant setbacks to livelihoods and food security during the monsoon season mainly because awareness of prevention measures is minimal. Chronic poverty reduces affected families' abilities to recover without experiencing long periods of food insecurity, malnutrition, and inaccessibility to basic needs. Many places affected by the colossal floods of 2010 and the years since then have yet to recover.
Life-saving food assistance immediately following a disaster is a first step, which mainly aims to help families survive. However, CWS-P/A is committed to work with vulnerable communities so that they may increase their awareness and take action to protect their lives, homes, and livelihoods during future disaster. Efforts to diversify their livelihoods to include non-agricultural sources and to empower women as decision-makers and income-earners further help decrease poverty and the risks from seasonal rains and floods. A comprehensive approach to imparting disaster risk reduction knowledge including safer housing construction, enhancing livelihoods, promoting women's empowerment, and improving access to basic rights such as health has proven effective in other areas of Thatta which were affected by the 2010 and 2011 floods. The people of Thatta are highly motivated to take ownership over their lives and their participation in all aspects of CWS-P/A's interventions is the main reason for the effectiveness of this integrated approach. CWS-P/A aims to continue working with communities in Thatta and elsewhere in Pakistan for enhancing resilience by addressing the underlying reasons for poverty and by strengthening community organization for collective action and ownership.
CWS-P/A appreciates the support from Canadian Foodgrains Bank through Presbyterian World Service and Development, Christian Aid, DanChurchAid, United Methodist Committee on Relief (UMCOR), and World Renew which has made possible the relief efforts for families affected by the 2013 floods in Thatta and Jacobabad.